Russia Violating Ukraine Ceasefire, Training Rebels, Building Up Troops On Border: US State Department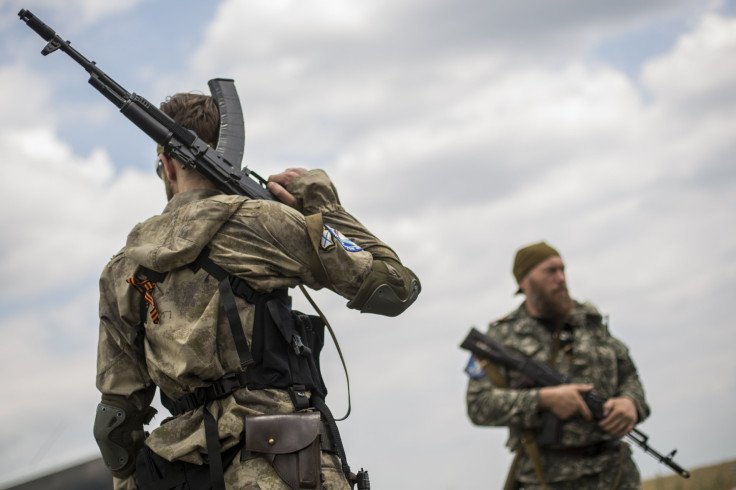 Russia has violated the terms of the ceasefire in Ukraine by significantly increasing the number of its troops in the border region, and sending arms and drones to rebels, the U.S. State Department said Wednesday.
State department spokeswoman Marie Harf said, in a statement, that "combined Russian-separatist forces" were violating the terms of the Minsk deal, keeping artillery and multiple rocket launchers in prohibited areas.
Russia has also built up the number of air-defense systems -- including drone aircraft deployed in eastern Ukraine -- to their highest level since August 2014, Harf said, according to the Los Angeles Times, adding that the country has also deployed more troops and military material on the border than at any time since October, when heavy fighting was taking place in the area.
In addition, the Russian military has been involved in complex training exercises with rebels in eastern Ukraine, prompting U.S. concerns that the country is considering a fresh offensive in the region. Harf said that the nature of the training exercises left no doubt of Russia's involvement, according to Reuters.
"The training has also incorporated Russian UAV's (unmanned aerial vehicles), an unmistakable sign of Russian presence," she reportedly said.
The increased military deployments are a sign that rising tensions in the region are a threat to the Minsk II ceasefire agreement, signed in February.
Western officials, speaking to the New York Times, said that the training exercises might indicate that the Russian military was looking to play a less obvious role and avoid a possible expansion of international sanctions should hostilities resume.
The U.S. and European Union have placed economic sanctions on Russia, following its annexation of Crimea and purported support for the rebels in eastern Ukraine. Russia denies any involvement in the conflict.
Earlier on Wednesday, Russian Foreign Minister Sergei Lavrov accused the U.S. of using the Ukrainian crisis to reach what he claimed was a "strategic goal" of Washington to "hinder the development of Russia's cooperation with the EU, especially with Germany," Radio Free Europe reported.
© Copyright IBTimes 2023. All rights reserved.
FOLLOW MORE IBT NEWS ON THE BELOW CHANNELS