Russia Warns Mariners To Keep Off Parts Of Black Sea, Sea Of Azov; Putin's Yacht Leaves Germany
KEY POINTS
The alert will be in place from this Sunday to next Saturday
An analyst said this has not happened in the last eight years
This is allegedly equal to a "sea blockade" of Ukraine ports

Close on the heels of six Russian warships entering the Black Sea that borders Ukraine, Russia has warned mariners and aviators to avoid significant portions of the northern end of the Black Sea and Sea of Azov next week.
Though this is ostensibly due to the naval drill planned by Russia in the region, there are concerns that this could mean a "de facto blockade" of Ukraine's southern coastlines. Analysts fear this could be a part of the preparation for Russia's Ukraine invasion, reported The Drive.
Andrii Klymenko, a member of the Ukraine-based think tank Institute of Strategic Black Sea Studies, said the Russian move is very similar to "preparing for something like the sea blockade of Ukrainian ports."
Klymenko took to Facebook to post a map of the area in the Black Sea and the Sea of Azov that would be covered by these notices. The alert will be in place from this Sunday to next Saturday (Feb.19).
"We don't want any panic, but this is very similar to preparing for something like the 'sea blockade' of Ukrainian ports. About which we've been warning for 2 years," he posted.
He added that this has not happened in the last eight years, and once the alert comes into place, there wouldn't be any corridors for the passage of trade vessels.
"The Black Sea in the northwestern part opens to the border of the territorial sea of Ukraine (12 miles, maritime border), in Azovsky - from the coast of the occupied Crimea to the coast of the Krasnodar region," he added.
However, the Russian Navy has not mentioned whether it will intercept or block foreign ships entering these exercise areas.
If Klymenko's map is anything to go by, it is clear that any vessels trying to access the Sea of Azov would have to go through the warning areas. Though there is a pact between Ukraine and Russia that allows sharing of the Sea of Azov, the latter controls almost 70 percent of the waters.
As for the Black Sea, only a narrow channel to the West will offer access to Ukrainian ports. Russia also plans to use another large section of the Black Sea, southwest of Crimea, for drills.
This comes as reports emerge that Russian President Vladimir Putin's Yacht "Graceful" left Germany abruptly before finishing repairs.
Though it is unclear why the $100-million vessel has suddenly left for Kaliningrad, there are speculations that the West would impose sanctions if Russia invaded Ukraine. And, sanctions could target certain luxury assets too.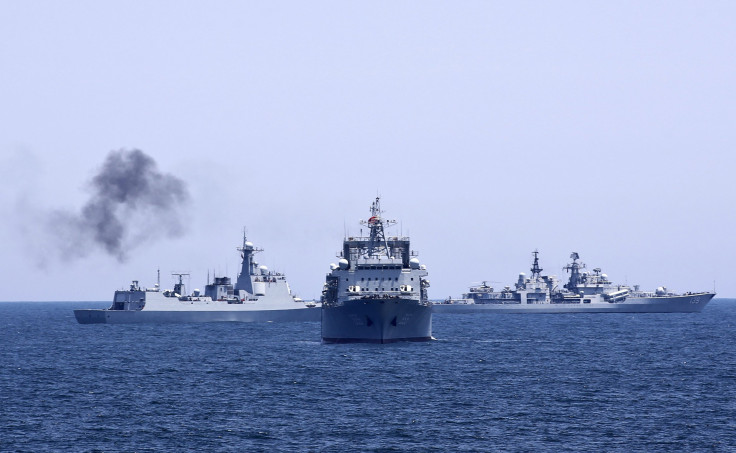 © Copyright IBTimes 2023. All rights reserved.
FOLLOW MORE IBT NEWS ON THE BELOW CHANNELS