Russian Aid Convoy Moves Into Ukrainian Territory, Citing 'Intolerable' Delays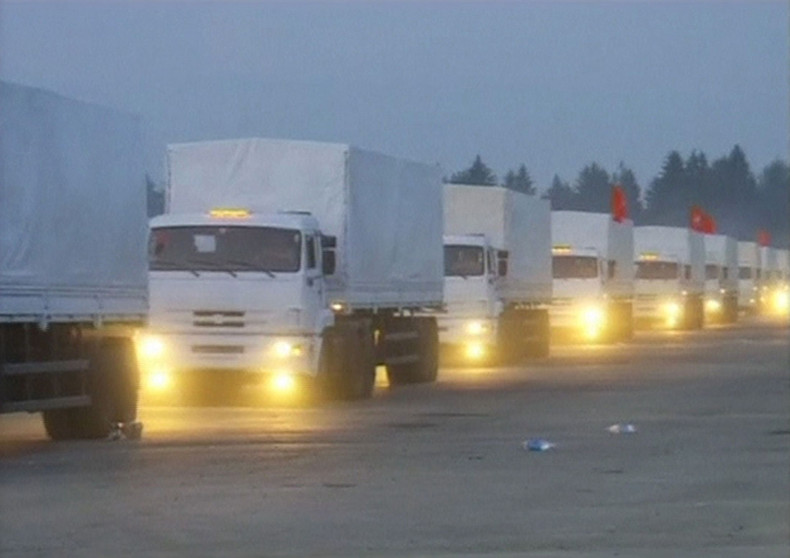 A Russian aid convoy destined for rebel-held eastern Ukraine has crossed the border and entered the country, seemingly without the permission of authorities in Kiev.
The Associated Press quoted a statement from the Russian foreign ministry as saying, "The Russian side has decided to act. Our column with humanitarian aid is starting to move in the direction of Luhansk."
Ukraine fears that Russia may be using the vehicles to smuggle in weapons to pro-Russia rebels who have been battling government forces in eastern Ukraine for four months, according to Al Jazeera English. Russia has consistently denied arming the separatists.
The International Committee of the Red Cross tweeted that while the convoy had moved into Ukraine, the organization was not escorting it.
The organization said that it has not received sufficient security guarantees from the warring parties, and that its team in Luhansk had reported heavy shelling overnight.
A Russian state TV correspondent reportedly suggested that the convoy will be joined by armed insurgents "for protection."
The Daily Telegraph reported that Russia's foreign ministry appeared to suggest that Moscow has decided to act without the Red Cross's permission.
"We of course are ready to have (the convoy) accompanied by the ICRC, and for its involvement in aid distribution," it said.
BBC News reported that as many as 70 trucks have entered Ukrainian territory, and that reporters at the scene saw rebel fighters ahead of the convoy as it passed over the border, in a separatist-held sector near the Russian town of Kamensk-Shakhtinsky.