Russian Airplane ISIS Bomb Attack Update: Islamic State Publishes Photo Of Bomb It Claims Brought Down Plane In Egypt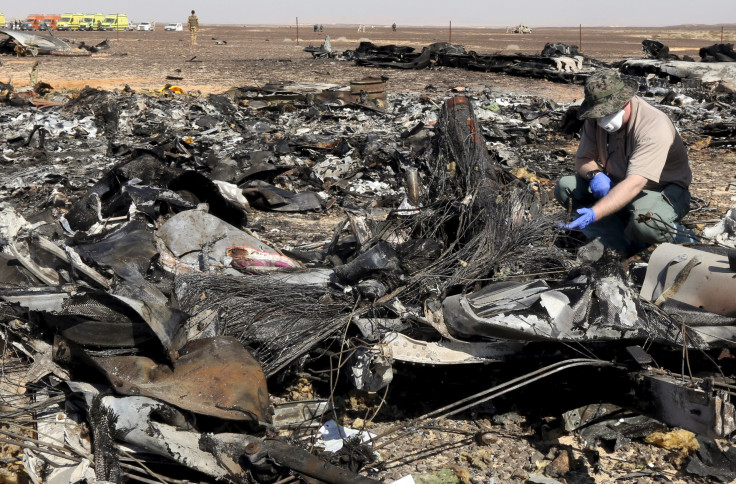 The Islamic State group has published a photo of what it claims is the bomb responsible for the crash of a Russian airplane in Egypt's Sinai Peninsula Oct. 31. The photo, published in the group's official magazine, appeared to show a soda can along with a detonator and a switch, the Daily Star, a Lebanese newspaper, reported. The group, which is also referred to as ISIS, ISIL and Daesh, said that it had snuck the bomb onto the plane before it took off from the resort town of Sharm el-Sheikh, bound for St. Petersburg, only to crash less than half an hour later, killing all 224 on board.
ISIS claimed responsibility shortly after the crash, and although Russian authorities were initially quick to dismiss the possibility that a bomb had brought down the plane as pure "speculation," it had adopted a different stance by Tuesday, when it said that a bomb had caused the crash.
The twelfth and latest issue of the Islamic State group's English-language magazine, Dabiq, was published Wednesday and included a photo of a yellow soda can labeled GOLD (a Schweppes soft drink), beside two other implements. The caption read, "EXCLUSIVE -- Image of the IED used to bring down the Russian airliner." The photo, included in the foreword to the magazine, was published beside another photo of what appeared to be the wreckage of the Russian jet, overlaid with photos of passports that purportedly belonged "to dead crusaders" and were "obtained by the mujahidin."
U.K. and U.S. officials have maintained since the days following the crash that a bomb was the likely cause. "We cannot be certain that the Russian airliner was brought down by a terrorist bomb, but it looks increasingly likely that that was the case," U.K. Prime Minister David Cameron said less than a week after the crash.
In the Dabiq foreword, ISIS group claimed responsibility once again for the crash. Initially it had planned to target a plane "belonging to a nation in the American-led Western coalition against the Islamic State," but after Russia began carrying out airstrikes in Syria, it decided on a Russian carrier instead. "After having discovered a way to compromise the security at the Sharm el-Sheikh International Airport ... a bomb was smuggled onto the airplane," the magazine said. "And so revenge was exacted upon those who felt safe in the cockpits of their jets," it added.
Elsewhere in the magazine, the group condemned Russia for what it described as being "not serious or sincere in its commitment to the political process" in Syria and for being not "a (sic) honest mediator but a party to the conflict and a key ally of the criminal regime" headed by Syrian President Bashar Assad.
This is a developing story. Please check back for updates.
© Copyright IBTimes 2023. All rights reserved.