Russian Bombers Force Commercial Flights Over Ireland To Divert Midair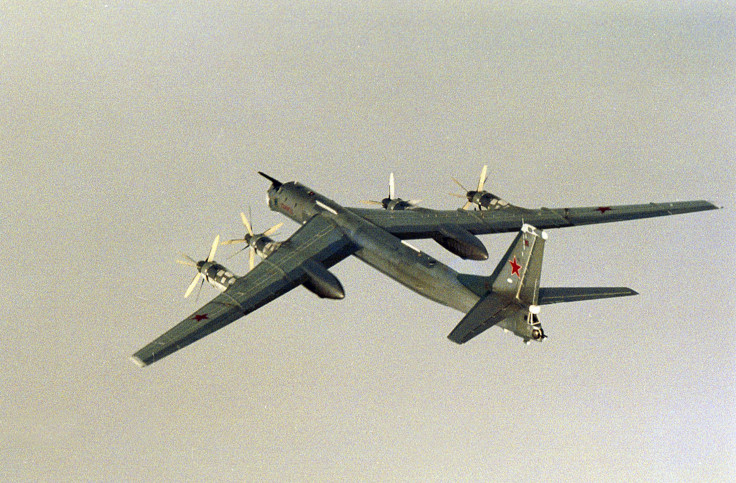 Two Russian bombers forced commercial airline traffic flying in and out of Ireland to divert midair. The Tupolev Tu-95 bombers flew just off Ireland's coast, resulting in civilian planes changing route or being grounded because the Russian warplanes were crossing commercial traffic airways. They were eventually intercepted by British Typhoon jets.
The incursion occurred on Feb. 18 but was reported only Wednesday by Irish authorities. The Irish Department of Foreign Affairs and Trade had warned the Russian ambassador about a similar incident that occurred two weeks earlier. Ireland had sought assurances that similar incidents would not happen again.
Ireland, which is not a member of NATO and does not have an air force, usually calls on British jets to assist when commercial airspace that it is responsible for is infiltrated by unknown aircraft. Russia has made more than a hundred such flights in the last 12 months across Europe's airspace, causing alarm and provoking interceptions by jet fighters while remaining over international waters.
According to the Irish Aviation Authority, two Russian bombers flying at around 27,000 feet buzzed the country's west, south and east coasts, causing problems for all aircraft in the airspace. The IAA was first informed by British counterparts that it needed to take action to ensure the safety of commercial aircraft because the bombers had their transponders off, a device that alerts air traffic control of an aircraft's altitude and location.
The IAA confirmed that the "the Russian military aircraft did not have their transponders switched on at the time," which delayed "one aircraft's departure from Dublin" as it would likely have flown into the path of the bombers.
At one stage the bombers were flying toward an aircraft bound from the U.S., and "as a precautionary measure to ensure safety was maintained" its route was changed "to ensure that its track was sufficiently separated from the track of the two Russian military aircraft," according to the IAA.
In the first incident, which happened around Feb. 1, the Russian bombers came to a point 55 miles from the Irish coast. In the second, they flew for four hours near Ireland, getting as close as 12 miles.
British Royal Air Force jets were on hand to escort the bombers away from the commercial airspace on both occasions.
Irish Defense Minister Simon Coveney expressed the government's unhappiness with the latter incident but said the incursion was not aimed at Ireland. Instead, it may have been meant to test British air defenses and send a message to London about its involvement in training Ukrainian soldiers.
© Copyright IBTimes 2023. All rights reserved.