Russian Commanders Shoot Their Own 'Coward' Soldiers To Force Them To Attack Ukraine: Report
KEY POINTS
The Russian commander said that his troops were 'completely demoralized'
The commander said he also wanted to go home to his children and wife
The newly intercepted phone call is the latest evidence in a string of reports that point to the Russians' low morale
Russian commanders have reportedly resorted to shooting at their own soldiers to force them to fight in Ukraine, according to messages intercepted by Ukrainian authorities.
Ukraine's Security Service on Thursday released voice messages where a Russian commander complained about how his soldiers refused to fight in the war. The commander added that he tried to shoot at the "cowards" in an attempt to push them to fight in Ukraine, but to no avail.
"Mine also got very scared. All are tired out. I can't get them up morally or physically. I even shoot some. And to no avail," the commander said. "Everyone here is completely demoralized. There are 10-15 people left in the companies at best. About 60 young servicemen have been added… half of them are cowards, dammit, and panickers."
At the end of the voice message, the Russian commander admitted that he is also tired of the war and that he also wishes to go home.
"Home: hug children and wife. And then – to whores! And to have many, many, lots of whores… I don't want anything else," he added.
The newly released intercepted message is the latest evidence in a string of reports that point to low levels of morale among Russian troops. On April 20, Ukraine's Security Service released another intercepted phone call where a Russian soldier revealed that their commanders stole their provisions and left them in the woods for three days without any food or water amid the war.
"We sat out there with nothing (to defend ourselves with) for three days. Our army chiefs collected all the provisions that were sent to us, food, cigarettes and so on, and then they just ditched us and fu****ed off! We don't even know where they are," the soldier said. "They didn't leave us any escape options or routes, didn't bring the provisions, didn't give any guidance."
The rising death toll among Russian soldiers could also be a reason for the low morale among troops. While the Kremlin has continuously refused to offer an official count, an intercepted call heard a Russian soldier say that they lost 25,900 soldiers in the first two months of the invasion.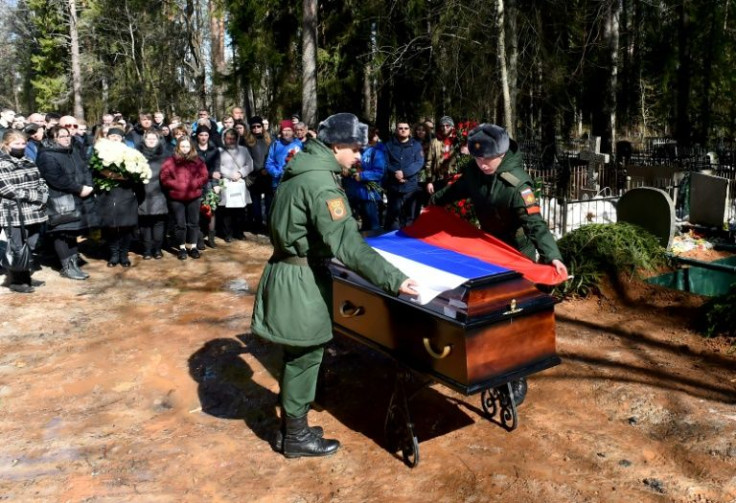 © Copyright IBTimes 2023. All rights reserved.
FOLLOW MORE IBT NEWS ON THE BELOW CHANNELS