Russian Economic Crisis 2015: International Reserves Slump $5.4B Amid Sanctions, Ongoing Recession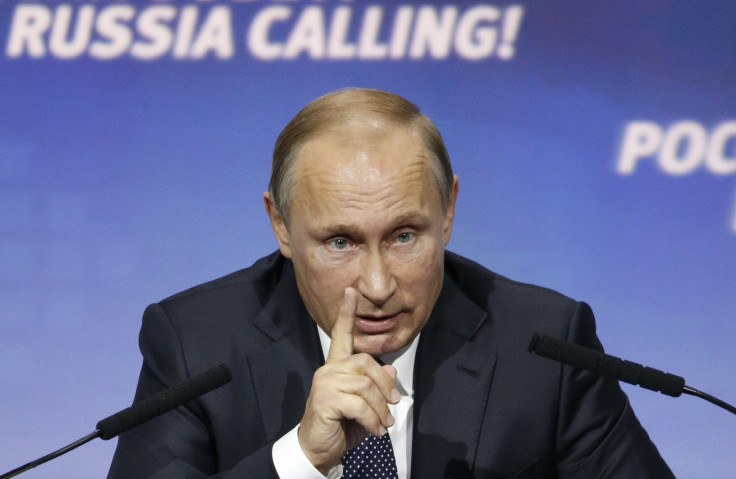 Russia's international reserves, liquid foreign assets managed by the Central Bank of Russia, fell by $5.4 billion to $369.2 billion in the week of Oct. 23-30, Tass, a state-owned news agency, reported Thursday. News of the dip came as Russia struggled to recover from a continuing economic downturn while bracing for more losses in 2016.
Russia's economy has been in a downslide since 2014, in part because of crippling sanctions from both the United States and the European Union. Both the U.S. and EU imposed sanctions following Russia's annexation of the Crimean peninsula and alleged backing of pro-Russian separatists in Ukraine in March 2014. The nation was formerly a large importer and exporter to the EU in particular.
Worldwide drops in oil prices have also contributed to the national economic slump. Russia is one of the largest producers of oil in the world, and in September, its output was around 10.74 million barrels a day, according to state data as reported by the Wall Street Journal. Demand for oil has continued to decrease throughout the year, however, as emerging markets did not buy as much oil as had been predicted. The imbalance in supply and demand has continued to push the price per barrel down.
Alongside the drop in international reserves, other indicators of Russia's slump included a 10 percent reduction in retail sales while inflation hovered around 16 percent, the Wall Street Journal reported in October. Experts said the slump might soon bottom out, however. "Overall, we interpret these indicators to imply that the economy is near the bottom of its cycle and that the recession will not deepen much further," Barclays Capital said in a research note, as reported by the Wall Street Journal.
Authorities in Russia said they were fearful of shortages when it came to basic food supplies, such as meat and cheese. The country could see a shortage of meat and dairy in 2016, according to a report released by Russian news agency Ria Novosti Wednesday, as a result of ongoing sanctions.
© Copyright IBTimes 2022. All rights reserved.
FOLLOW MORE IBT NEWS ON THE BELOW CHANNELS