Russian Firm To Develop Arctic Anti-Aircraft Weapon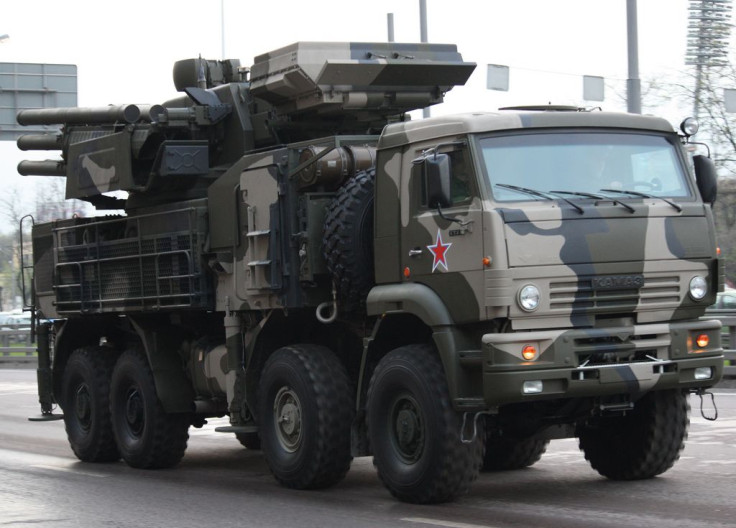 The makers of Russia's Pantsir self-propelled anti-aircraft gun want to develop a tracked version of the gun for deployment in the Arctic, according to a senior director at a subsidiary of one of Russia's largest defense manufacturing firms.
The KBP Instrument Design Bureau is investigating what is needed to allow its Pantsir-S1, which goes by the NATO reporting name SA-22 Greyhound, to operate in the harsh Arctic environment. The $14 million rocket, cannon and radar system is Russia's premier anti-aircraft weapon and is used by nine other countries. It can be built as a stationary or self-propelled system.
"Icing up is the main problem," said director general Vladimir Popov of the KBP subsidiary JSC Scheglovsky Val. "We are improving both the chassis' reliability and the frost-resistance of different oils and power fluids."
The Russian Armed Forces has deployed three traditional six-wheeled Pantsir-S1s at an airbase in Kotenly Island for the last year, but KBP determined that a specially adapted tracked version should be developed. The firm developed a tracked version of the weapons system for the United Arab Emirates using one of KBP's tracked vehicle bases, but Popov did not specify if KBP would work directly off of that design.
Russia reactivated the Kotenly Island base in September 2014 after a 21-year absence there following the fall of the Soviet Union. It was part of a Russian defense program to boost its military presence in the Arctic with the construction of 13 new airfields and 10 radar stations, according to the Telegraph. Russia is one of eight countries with claims to Arctic and last year submitted a claim to the United Nations for another 460,000 square miles of territory.
© Copyright IBTimes 2023. All rights reserved.