Russian Foreign Minister Sergei Lavrov's Trip To Latin America May Be Aimed At Irking U.S.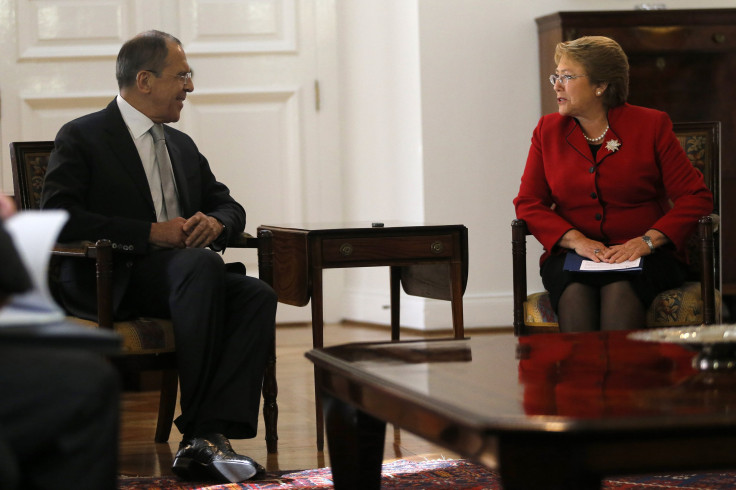 MEXICO CITY -- With the current crisis in Ukraine, one would think Russian Foreign Minister Sergei Lavrov has his plate full in Moscow. However, he found the time last week to travel to Latin America for meetings with the presidents of several countries. Nicaragua and Cuba, two old friends of Russia, were first on the list, but Lavrov also went to two nations that aren't usually considered close to Moscow: Peru and Chile.
The official reason for the three-day trip was to deepen cooperation between Russia and those four countries, but analysts wonder whether the trip may have been calculated to irk the United States, which traditionally considers Latin America within its own sphere of influence.
Also, in the case of Nicaragua and Cuba, Lavrov wanted to personally thank them for supporting Russia in the Ukraine crisis: Both countries voted against the United Nations resolution of March 27 that did not recognize the annexation of Crimea from Ukrainian to Russian province.
"Cuba rejects vehemently the anti-Russian measures," Bruno Rodríguez, Cuba's foreign minister, said after his meeting with Lavrov on Tuesday, referring to sanctions on Russia approved by the U.S. and EU.
"The European Union and the U.S. are hindering more than helping the situation with their pressures and threats," Nicaraguan President Daniel Ortega said on Wednesday, after Lavrov's visit. "That is not the way: dialogue is the way."
Lavrov could not thank Peru and Chile, though, because they voted for the U.N. resolution. Particularly Chile, as a current non-permanent member of the Security Council, has been inflexible in its support of the territorial integrity of Ukraine.
"It is for the people of the Ukraine to decide their own destiny," the Chilean ambassador to the U.N., Octavio Errázuriz, said.
Lavrov met with Chilean President Michelle Bachelet on Wednesday, and, according to statements by both governments, stayed clear of the Ukraine crisis. They talked about a possible free trade agreement between the nations. Russia also made known its interest in establishing a military relationship with Chile, which is traditionally a buyer of American weapons.
Chile's Foreign Minister Heraldo Muñoz said after the meeting that the country has an independent foreign policy, which allows it to have a good relationship with both Russia and the U.S.
In the same press conference, Bachelet extended an invitation to Russian President Vladimir Putin to visit Chile and pursue further trade negotiations.
Lavrov's meeting with Peruvian President Ollanta Humala, which took place a day later, followed a similar thread. Peru expressed interest in a free trade agreement with Russia.
"It has been an honor for Peru to be included in Minister Lavrov's trip to Latin America," Foreign Minister Eda Riva said after the meeting, adding that a Peruvian official is expected to travel to Moscow before the end of the year.
Just as in Chile, the topic of Crime was absent from the conversations. Peru backed the U.N. resolution, though it did not speak about it to the Assembly like Chile did.
Russia has been trying to further its influence in Latin America for a few years now. Trade between Moscow and the region has grown exponentially in the last decade, reaching $16.2 billion in 2012 from $5.5 billion in 2000, according to numbers from the Sistema Económico Latinoamericano y del Caribe (Latin American Economic System, or SELA).
Russia has also expressed its interest in establishing military bases in Cuba, Nicaragua and Venezuela. "We are close to signing agreements," Russian Defense Minister Sergei Shoigu said in February. "Russia is looking to expand its global influence."
Cuba, a close Soviet ally during the Cold War, has remained close to Moscow. "Cuba is our traditional partner in the world, and [...] in Latin America," Putin said on his 2010 visit to the island.
Russia also strengthened links with Nicaragua in the 1980s, after the Sandinista Revolution created a Communist regime in the Central American country. Venezuela has grown close to Russia during the late President Hugo Chávez's years. "Chávez dedicated all this life to fight for justice and equality," Russia's Prime Minister Dmitry Medvedev said after the comandante's death last year.
But Russia hasn't always been this interested in Latin America. After the Soviet Union collapsed in 1991, a weakened, inward-focused Moscow lost much of its clout in the region, and its attraction to it. Lavrov's trip may, or may not, be the sign of a new push to get close to nations in Washington's geopolitical backyard.
"These may well be little more simply symbolic retaliations in response to U.S. involvement in Ukraine," Carl Meacham, director of the Center for Strategic and International Studies, said. "Or, they could prove to be real power moves in the direction of a larger global strategic shift."
"I do not know what to think about Russia's intentions," Andrés Oppenheimer, an Argentinean columnist, wrote. "I do not think Moscow can afford military expansion, but I also think Putin has delusions of grandeur and is more interested in increasing his power than to have a prosperous, developed country."
© Copyright IBTimes 2023. All rights reserved.