Russian Jets Probe European Skies For A Third Day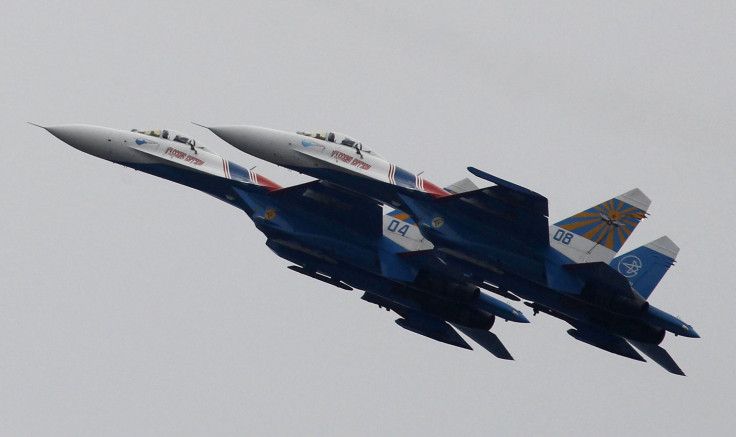 Russian jets have been intercepted in NATO airspace for a third day as the alliance reports increased military activity across the region. The Latvian Army reported that it had shadowed a Russian Su-27 fighter and a IL-76 military transport plane, which also was later monitored by a Eurofighter on behalf of NATO's Baltic air policing mission.
Amid strain between the West and East, resulting from war in eastern Ukraine, NATO has tracked more than 100 aircraft this year, three times as many as 2013, said a NATO report.
"Such air maneuvers by Russia are not new, but the magnitude of the flights are unusual," said Sarah Lain, a research fellow at the Royal United Services Institute for Defense and Security. "Russia is being purposefully provocative and confrontational. This is also reflected in its lack of communication with civilian air traffic control, which is sensitive given any risks this might cause to civilian aviation, particularly in light of the downing of MH17."
In a statement released Thursday, the alliance said that it had monitored four groups of Russian military aircraft conducting "significant" maneuvers over the Baltic, North and Black seas.
The air activity over the last three days, while not a breach of sovereign airspace, has come at a testing time for European-Russian relations. Sweden conducted the biggest search operation since the end of the Cold War after reports were made that a Russian submarine was operating in the Stockholm archipelago.
"Russians are exercising and moving aircraft in the Baltic area between St. Petersburg and the Kaliningrad exclave much more than they did in the past as a result of higher military spending," Pauli Jarvenpaa, a research fellow at the International Centre for Defence Studies in Tallinn, told Bloomberg. "There can be potential mechanical failures, accidents. It's a high-risk game."
© Copyright IBTimes 2023. All rights reserved.
FOLLOW MORE IBT NEWS ON THE BELOW CHANNELS