Russian Oil Chief Denies Speculation That Rosneft Bond Sale Set Off Ruble Currency Collapse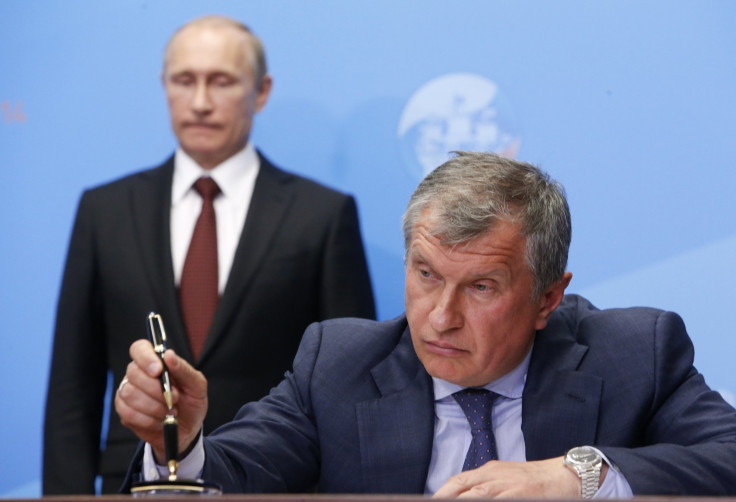 The head of Russian oil giant Rosneft denied accusations that the company played a part in the Russian ruble's recent collapse, Bloomberg News reported. Observers have speculated that Rosneft's bond sale last week sent the currency plummeting to record lows.
Rosneft, Russia's largest oil producer, issued 625 billion rubles in new bonds on Friday -- a deal worth $10.9 billion at the time -- to help repay a nearly $7 billion loan by a Dec. 21 deadline.
According to analysts, state banks bought the bonds, which they deposited with the central bank. "The central bank … gave Rosneft 625 billion newly printed rubles. The money immediately appeared on the currency market, and the rate collapsed," Boris Y. Nemstov, a former Russian deputy prime minister, wrote in a Facebook posted cited by the New York Times.
Alexei Kudrin, a former finance minister, tweeted that Rosneft's credit deal "heated up the market," which he called "extremely bad timing," Bloomberg noted.
The ruble slipped past 64 against the dollar for the first time on Monday, prompting the central bank Tuesday to raise its key interest rate. The emergency effort had little effect on the currency, and the ruble dropped by 20 percent since the start of the week, setting off panic over the future of the country's banking system. By Wednesday afternoon in Moscow, the ruble was up 3 percent to 65.6 per dollar.
Russia's currency has declined more than 50 percent this year due to Western sanctions against Moscow and plummeting crude oil prices. The weakening ruble virtually erased Rosneft's profits in the third quarter this year. The oil company reported a net profit of 1 billion rubles ($23 million at the time), down from $3 billion in the second quarter.
Igor Sechin, head of Rosneft and a close confidant of President Vladimir Putin, said speculation that Russia's central bank supported Rosneft's latest bond issue is a "provocation," Bloomberg reported. "Those interested parties and provocateurs should be dealt with," he told reporters near Moscow.
© Copyright IBTimes 2023. All rights reserved.