Russian Woman Who Told Putin To 'Burn In Hell' Faces Terrorism Charges
KEY POINTS
A Russian woman posted an image of Vladimir Putin being engulfed in flames with the caption, "Burn in hell!"
She now faces criminal charges for "calling for terrorism" and "discrediting the Russian armed forces"
Prosecutors did not reveal the basis for the case, but officials claimed the woman's post was the cause
A Russian woman has been accused of "calling for terrorism" and "discrediting" her country's armed forces after making a social media post that featured Vladimir Putin.
Irina Bystrova posted an image of Putin being engulfed in flames with the caption, "Burn in hell!" upon discovering that Russia invaded Ukraine on Feb. 24, the United States-funded Radio Free Europe/Radio Liberty reported.
"Tears were pouring down that I just could not stop. I understood that something terrible had happened, and I couldn't do anything. And I'm ashamed to say that I am Russian," Bystrova, the owner of an art studio in the northern Russian city of Petrozavodsk, said.
Bystrova's social media account was blocked a month after she made the post, according to the report. In addition, officers from the police and Russia's Federal Security Service also searched her apartment and confiscated computers, cell phones and other items.
Before posting the Putin image on social media, Bystrova caught the attention of authorities by joining street demonstrations such as those that showed support for jailed Russian opposition leader and Putin critic Alexei Navalny. She also vocally opposed the annexation of Ukraine's Crimean Peninsula in 2014.
Bystrova now faces criminal charges for "calling for terrorism" and "discrediting the Russian armed forces," which can carry up to seven- and three-year prison sentences, respectively. Authorities handed Bystrova a formal copy of her charges on March 24, the day after her apartment was searched.
Prosecutors did not reveal the basis for the case, but officials close to the investigation claimed Bystrova's social media post was the cause.
Bystrova is now fighting in Petrozavodsk to avoid a court-ordered psychiatric evaluation that has been assigned to her.
"Why am I not afraid? If I'm afraid, who but me will defend? If everyone is afraid, we'll never be able to do anything. There's nothing to be afraid of. It can't get any worse," she said.
At least 15,542 people have been detained across Russia for anti-war demonstrations since the country invaded Ukraine, according to data provided by the independent Russian human rights monitor OVD-Info.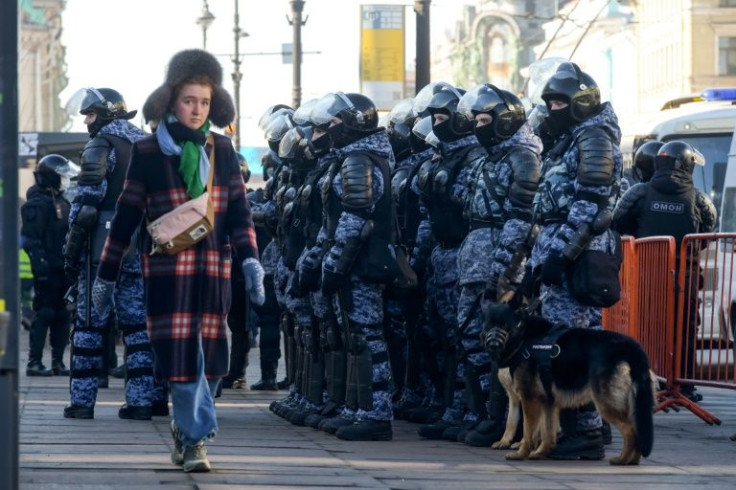 © Copyright IBTimes 2022. All rights reserved.
FOLLOW MORE IBT NEWS ON THE BELOW CHANNELS