Russians Using Plaques To Disguise Mass Graves In Manhush, Say Mariupol Officials
KEY POINTS
The council claimed there are at least 268 graves in the area
Residents have discovered a new 30-meter long mass grave
The council said Russia was using mobile crematoriums in Mariupol
The Mariupol City Council has alleged that the Russian soldiers were disguising mass graves in the town of Manhush with plaques to hide the real number of people killed in Mariupol. This comes as satellite images reportedly showed mass graves larger than three football fields in the port city.
"The invaders are again trying to hide the scale of the genocide in Mariupol. They're disguising a large mass grave in Manhush with 'plaques.' So far, it's going very badly," the council said in a Telegram post Monday.
The council has also put up photos of plaques on one of the burial sectors. Judging by the numbers, there are at least 268 graves in the area, said a report by The New Voice Of Ukraine, a Kyiv-based news website.
The council said satellite images from April 9 showed four such sectors. "Russian propagandists themselves have documented the murder of 1,000 Mariupol residents," the press service added. However, Ukraine said it estimates the number of Ukrainians buried in the Manhush mass grave is between 3,000 and 9,000.
The report quoted Mariupol Mayor Vadym Boychenko who said local residents have discovered a new mass grave, 30 meters long, dug by the invaders in Mariupol.
Earlier, the city council claimed that Russian forces had used 13 mobile crematoriums in Mariupol for disposing of slain Ukrainian civilians. They used the same facility to burn the bodies of dead Russian soldiers, making an accurate count of Russian losses impossible. The council added that Russian forces had prohibited burying the dead on municipal territory, and even went as far as to exhume previously buried bodies, to rebury them someplace else.
Most of the city is now controlled by Russian forces, who forbade residents from burying their loved ones, the council said.
Boychenko had compared this to the Nazi massacre at Babyn Yar, where more than 30,000 Ukrainian Jews were systematically executed over two days during World War II. Reports, quoting a statement from Maxar Technologies, had said the size of the mass grave has gradually expanded over the past month as Russian forces continue to transport Ukrainian bodies out of Mariupol. Ukraine had also claimed that the mass grave was 20 times larger than the one in Bucha and could hold up to 9,000 bodies.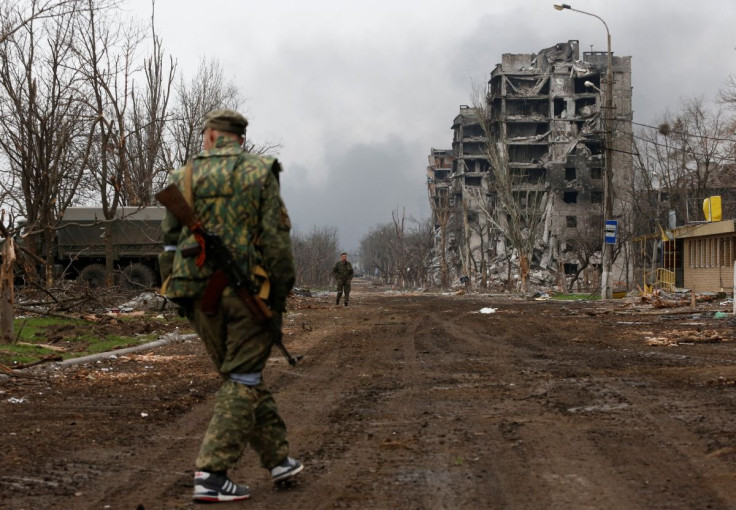 © Copyright IBTimes 2023. All rights reserved.