Russia's New Deadly Missiles: Moscow Conducts First Nighttime Launch Of Iskander-M Tactical Missile System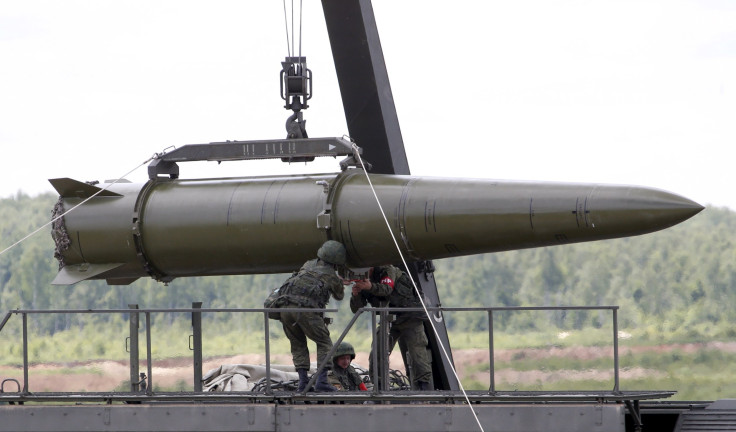 Russia has conducted its first nighttime test of its Iskander-M short-range ballistic missile system, the Defense Ministry told Sputnik News Thursday. The Iskander-M has been deployed to a number of Russian territories in recent months, amid tensions with the West over the conflict in eastern Ukraine and Russia's displays of military might in the Baltic region.
"Officers from the Central Military District's missile unit completed test launches at night from the Iskander-M short-range ballistic missile system during training in the Orenburg region," the military press service said Thursday. At least 50 officers took part in the drill, it said.
The Iskander-M is a version of the Iskander tactical missile system, which was officially adopted by the Russian army in 2006. It has a firing range of up to 310 miles and is capable of carrying nuclear warheads. In July, the armed forces successfully test-fired the missile system, and planned to send at least one system to eastern Siberia in September.
As it increasingly tests and proves the worth of its weaponry, Russia has looked to sell military hardware, the Iskander-M included, to other countries. Armenia and Russia have been negotiating over the contract to sell the Armenian military the Iskander, and Saudi Arabia and Kazakhstan have also shown interest in it. Russia has also sold other defense equipment to India, China, Pakistan and Iran.
"The Iskander is a very deadly system," Ruslan Pukhov, director of the Center for the Analysis of Strategies and Technologies in Moscow, said in August, the Moscow Times reported. The Federation of American Scientists has described the system as versatile and precise and said that "even a small amount of such missiles drastically changes the balance of force in conflicts."
© Copyright IBTimes 2023. All rights reserved.