Russia's Olympic Venues Built By Exploited Migrant Workers: Human Rights Watch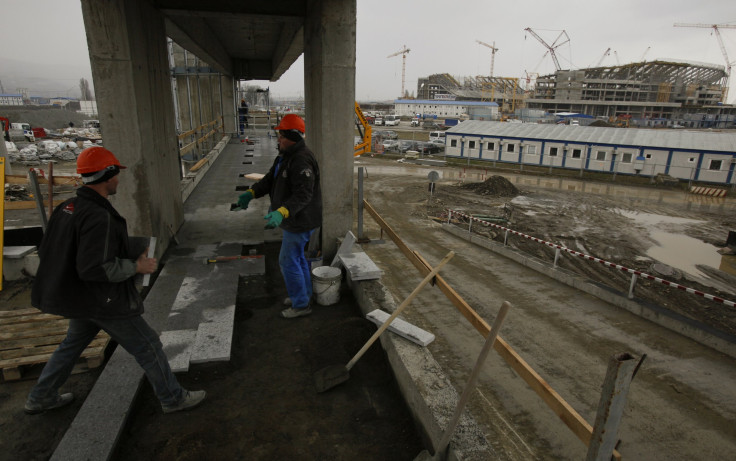 Russia's sleepy seaside resort town of Sochi is being transformed into an ultra-modern, international tourist destination for the 2014 Winter Olympics, and it's being done on the backs of migrant workers who labor long hours for little pay, according to a new report from Human Rights Watch, or HRW.
The report, titled "Race to the Bottom," documents the exploitation of workers at Sochi's Olympic sites, where they claim some employers have withheld wages, required them to work 12-hour shifts with few days off, confiscated their passports and work permits to prevent them from leaving and failed to provide adequate accommodations and meals that were promised.
"Athletes, journalists and Olympic ticket holders in Sochi will watch the 2014 Winter Games in iconic modern sports venues, broadcast centers and hotels," Jane Buchanan, associate Europe and Central Asia director at HRW, said in a statement. "But many migrant workers have toiled in exploitative, abusive conditions to build these shimmering facades and luxurious interiors.
"Russia has big hopes and dreams for its performance in Sochi as the host. But exploiting workers is a victory for no one, and Russia urgently needs to change course."
Russia has pulled in more than 16,000 workers from outside the country to Sochi in order to complete the numerous construction projects in time for the Winter Games in February 2014.
Most came from parts of Central Asia and Eastern Europe, including Armenia, Kyrgyzstan, Serbia, Tajikistan, Uzbekistan and Ukraine.
HRW interviewed 66 of these workers, who were employed from 2009 to 2012 as carpenters, welders and steel-fitters, as well as low-skilled manual labor jobs.
Average earnings were reported to be between 55 and 80 rubles ($1.80 to $2.60) per hour, far less than what the workers said they had been told would be paid by their employers. In many cases, workers said they went weeks and even months without getting paid.
One Uzbekistani worker called Omurbek told HRW that he had been offered $770 per month to work on a media center project back in December 2011. "I worked for almost three months ... for nothing. Nothing but promises, promises from them," he said.
Other workers said their first month's wages were withheld and were told they would not receive them until the employer decided they had completed their jobs. In cases where workers quit or were dismissed, their first month's wages were never recovered.
The workers performed 12-hour shifts, with a single hour-long break, and would typically work for two weeks straight with only one day off and received no overtime pay.
The workers also complained of being crammed into overcrowded living spaces and given insufficient meals. HRW said its researchers found that in some cases as many as 200 people were staying in a cramped single-family home.
The human rights group said Russian authorities, particularly the state-run corporation Olympstroy, which is overseeing the Olympic construction projects, are obligated by national and international law to protect the workers' rights.
"Olympstroy has made some important public commitments, but the patterns of abuse on Olympic sites strongly suggest an inability or unwillingness to take all the steps necessary to guarantee basic rights for migrant workers," Buchanan said. "We're not talking about problems with just one worker or violations by one particularly bad employer. We're talking about serious, consistent reports from workers on several of the major Olympic sites."
The Wall Street Journal reported that Russian officials have rejected HRW's accusations.
Dmitry Kozak, Russia's deputy prime minister in charge of preparation for the games, said Moscow is conducting "intensified monitoring" of all labor issues in Sochi and found no widespread violations.
"People come voluntarily from all corners of the country asking for work [in Sochi]," Kozak told reporters.
HRW has also criticized the International Olympic Committee, or IOC, which coordinates the games, saying it has failed in its responsibility to intervene and end the reported abuses of migrant workers.
"As the IOC meets in Sochi this week to celebrate the one-year countdown to the 2014 Winter Games, it has a chance to make a strong statement about respect for human dignity by publicly calling on the Russian authorities to put an end to worker exploitation," Buchanan said.
"The Olympic Games are about excellence and inspiration," she added. "The world should not cheer the winter games in Russia that are built on a foundation of exploitation and abuse."
© Copyright IBTimes 2023. All rights reserved.