Russia's Top Secret Tank Unveiled: Armored Vehicle Purportedly Filmed For The First Time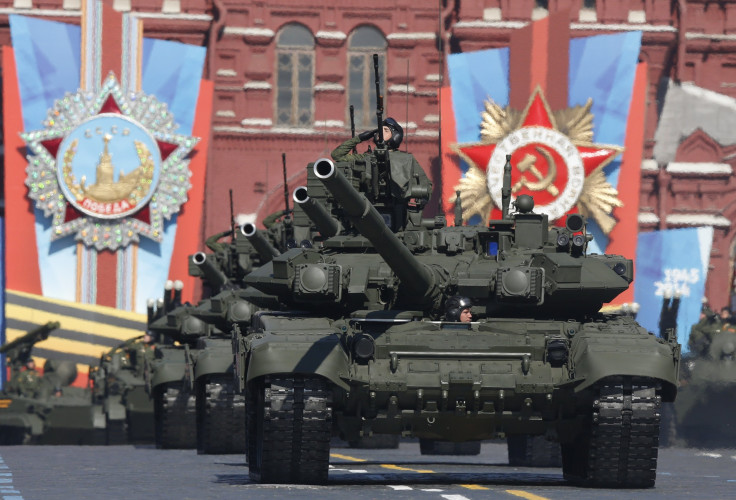 A video purportedly showing the Russian Federation's new T-14 Armata main battle tank surfaced on the Internet Monday, recorded at a rail station where a fleet of the state-of-the-art tanks were being transported to Moscow for the Victory Day parade May 9. Russian state-owned media outlet Sputnik News identified the tank in the video by its distinctive seven-track design, which is seen on only a few main battle tanks.
The video was uploaded to YouTube by a user named Alexander Smirnov, who captured the video at an undisclosed location using a handheld video camera from the drivers seat of a vehicle. The actual type of tank in the video has not been verified, but Oleg Siyenko, general director of Uralvagonzavod, which developed the Armata system the T-14 is built on, told ITAR-TASS that "a whole family of armored vehicles based on the Armata platform" would be displayed at this year's Victory Day parade. Photos of the covered tanks on railcars are available on Liveleak.
While many armchair military analysts have backed the claim that the tank is a T-14, some have argued otherwise, calling it instead a modified German Leopard-1 tank, which also has seven tracks. See the video below:
Uralvagonzavod developed the Armata over the course of five years starting in 2009. The company, which is the largest main battle tank producer in the world, also built Russia's currently-in-service T-90 and T-72 tanks. Armata is a flexible platform that allows for multiple configurations of vehicles to be built upon it, like an armored personnel carrier or a self-propelled artillery gun. The T-14 is the main battle tank version of the Armata and features a 125mm smooth-bore gun that is remotely controlled. The turret is completely unmanned as all personnel operate the tank out of a heavily armored internal capsule. An opinion piece in Sputnik News claimed the T-14 is "on par" with the American M1A2 Abrams tank and the German Leopard 2, which are both the most sophisticated tanks the U.S. and Germany currently operate.
Prototypes were displayed as early as Sept. 2013, and the first batch of two-dozen or so T-14s is scheduled to be delivered to the Russian military later this year. The Russian Armed Forces will then run the T-14s through their set of tests throughout 2016. The Russian Ground Forces has planned to buy 2,300 Armata-based vehicles by 2020, which would replace about 70 percent of their entire armored fleet.
© Copyright IBTimes 2023. All rights reserved.