Is Rwanda Recruiting, Training Burundian Rebels? US Envoy Alarmed Over 'Credible Reports'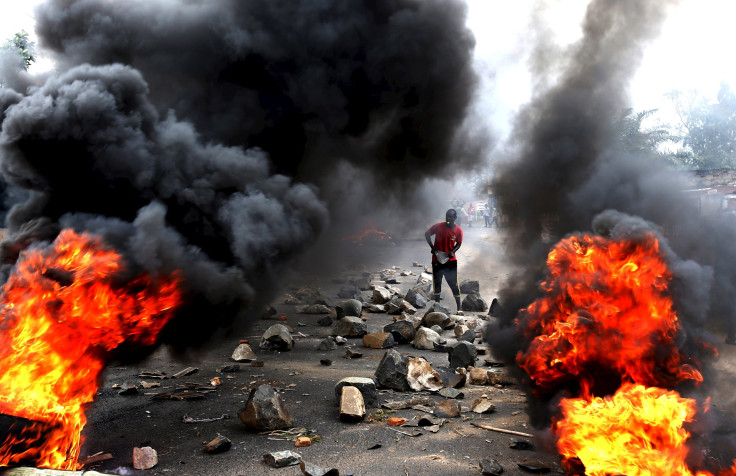 A senior U.S. official expressed alarm Wednesday over claims that Rwanda is fueling conflict in its war-torn East African neighbor Burundi. Thomas Pierriello, U.S. special envoy for the Great Lakes region, told a Senate committee in Washington that there are "credible reports" Rwanda is recruiting and training Burundian refugees as rebels to join Burundi's armed opposition against President Pierre Nkurunziza.
Pierriello said he recently met with three Burundian former child soldiers in the Democratic Republic of Congo who alleged they were recruited in Rwandan refugee camps, trained and led to fight in their home country. Pierriello's comments come days after a confidential report to the United Nations Security Council accused Rwanda of meddling in Burundi's affairs.
"There are credible reports of recruitment of Burundian refugees out of camps in Rwanda to participate in armed attacks by Burundian armed opposition against the Burundian government," Pierriello told the senate committee, according to an online transcript of his testimony. "We have called on the Rwandan government to investigate these reports, uphold the strictly civilian character of refugee camps and hold accountable those responsible for unlawful conduct. Any effort to recruit combatants, whether children or adults, out of refugee camps is completely unacceptable."
Burundi is grappling with a nine-month political crisis, which began in April when Nkurunziza said he would seek for a third term as president. Critics said Nkurunziza, a former Hutu rebel, was violating the constitution and a peace deal that ended 12 years of civil war between Burundi's Hutu majority and its Tutsi minority. But the ruling party said Nkurunziza's first term does not count because he was appointed by Parliament rather than elected in 2005, following the peace accord. Demonstrations against Nkurunziza's bid for a third term broke out, and violent clashes erupted between protesters and forces loyal to the ruling party. A failed coup d'etat escalated the violence in May. More than 200,000 people have been displaced during the current conflict.
Nkurunziza and his ruling National Council for the Defense of Democracy-Forces for the Defense of Democracy party declared a landslide victory in the country's parliamentary and presidential polls in June. The United Nations condemned the controversial elections, saying they took place in an environment that was "not conducive for an inclusive, free and credible electoral process," according to the Associated Press.
The predictable results have only stoked a fresh wave of violence between Nkurunziza and his opponents. Forces loyal to Nkurunziza have been accused of unlawful mass atrocities and arrests. The armed opposition, which boycotted the polls, has also been accused of attacking or hounding Burundian authorities and supporters of the ruling party. Some 440 people, including civilians, have been killed since Nkurunziza decided to stand for a third term, according to Bloomberg News.
A report by U.N. experts who monitor sanctions on the Democratic Republic of Congo, which was seen by Reuters last week, cites accounts from several Burundian rebel fighters who told the experts the training was done in a forest camp in Rwanda. The report said the U.N. experts had spoken with 18 Burundian combatants, including six children, in eastern Congo's South Kivu province. The rebels told them they were trained in military tactics, how to use of assault rifles and machine guns, grenades, anti-personnel and anti-tank mines, mortars and rocket-propelled grenades.
"They all told the group that they had been recruited in the Mahama Refugee Camp in eastern Rwanda in May and June 2015 and were given two months of military training by instructors, who included Rwandan military personnel," the U.N. experts wrote in the report. "They reported that their ultimate goal was to remove Burundian President Pierre Nkurunziza from power."
This is not the first time Rwanda has been accused of supporting insurgents. In December, Burundi accused its neighbor of supporting a rebel group that was recruiting Burundian refugees on Rwandan soil. In December, Rwandan President Paul Kagame dismissed allegations by Burundi that his country was recruiting Burundian rebels on Rwandan soil as "childish," according to Reuters.
© Copyright IBTimes 2023. All rights reserved.