S.Africa mines union considers new Implats pay offer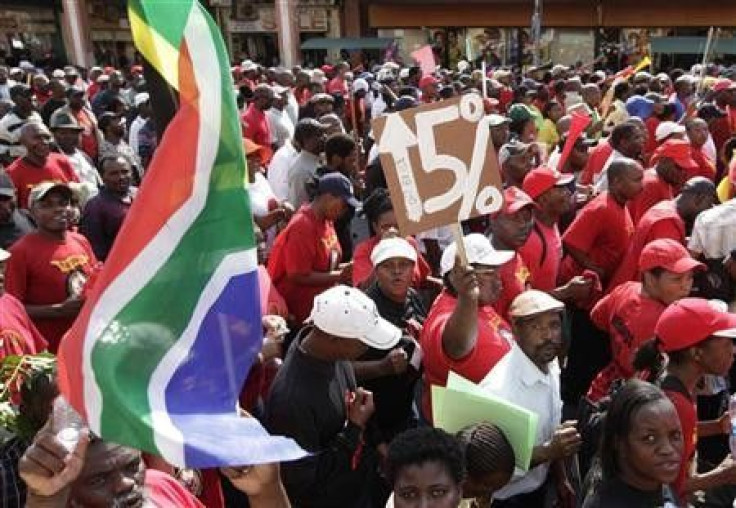 South Africa's National Union of Mineworkers said on Thursday Impala Platinum had improved its wage offer in a bid to avert a strike which could impact production at the world's second-largest producer of the precious metal.
Africa's biggest economy has been hit by a wave of strikes which have also impacted the fuel, diamond and steel industries, threatening to curb growth and damage an already stagnant economy.
Eddie Majadibodu, NUM's chief negotiator at Implats, said the union would consult its members on the new offer, which was "neither good nor bad".
Implats, and its bigger rival Anglo American Platinum, account for two-thirds of global platinum supply and any prolonged strike could push prices higher.
"We've met until this morning, there has been some movement from the company and we will engage with our members to discuss it," he told Reuters.
The NUM, seeking a 14 percent raise for its 26,000 workers at Implats, has rejected the firm's previous offer of between 7.5 and 8 percent. Unions say employers should pass along the benefits of high precious metal prices to workers facing increasing food and fuel bills.
Gold and coal workers also represented by NUM reached deals this week for 7.5 to 10 percent wage hikes to end strikes that curtailed production.
Economists caution wage settlements well above the current 5 percent inflation rate erode South Africa's global competitiveness by driving up the cost for a labour force already more expensive and less efficient than those in rival emerging economies.
The union will meet Implats again on August 12-13 and the precedent of agreements in other mining sectors could bode well for an early settlement.
The ruling African National Congress, in a governing alliance with Labour, does not want to antagonise a group that has supplied it with millions of votes by putting pressure on unions to seek more modest deals.
Gold miners returned to work from Tuesday after a two-year deal was reached with the country's top three gold miners.
AngloGold Ashanti, Africa's top gold miner, said the strike had cost it some 45,000 ounces of output.
The NUM is also in wage talks with state-owned utility Eskom , which supplies more than 95 percent of South Africa's power.
"The union has lowered its demands to 13 percent from 14 percent and talks are still ongoing," said NUM spokesman Lesiba Seshoka. Eskom has offered a 7 percent increase.
Two other unions, NUMSA and Solidarity, were part of the negotiations and Eskom said any settlement would affect some 33,000 out of a total of its 40,000 workers.
Any significant pay rises would affect the utility's already strained balance sheet as it struggles to pay for new power plants to meet fast rising demand for electricity.
Should Eskom agree to a 13 percent rise, workers who were given a 9 percent raise last year and 1,500 rand a month for housing, would have received wage and benefit increases of around 30 percent over two years.
Eskom spokeswoman Hilary Joffe said the utility's workers could face disciplinary action if they went on strike as the supply of electricity is protected as an essential service to keep the economy going.
In a separate labour dispute, more than 200,000 South African water, sanitation and refuse workers said they will announce on Friday the date of a strike that could disrupt garbage and water services in major cities.
© Copyright Thomson Reuters 2023. All rights reserved.