Same-Sex Unions OK With Two Thirds Of Americans: Poll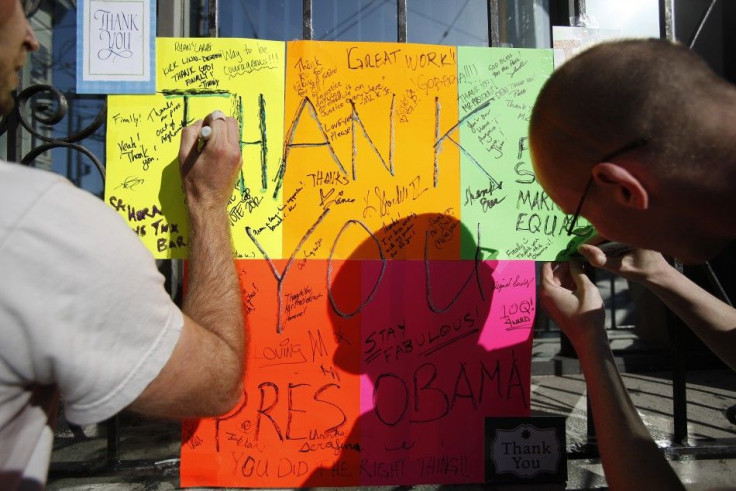 A clear majority of Americans support some form of legally recognized same-sex unions, according to a new CBS/New York Times poll.
Conducted over a three-day period after President Obama publicly backed the right of gay couples to wed -- the first time an incumbent president has done so -- the survey found that 38 percent of Americans thought members of the same sex should be allowed to marry. That number has essentially not changed over the last few years' installments of the CBS/New York Times Poll.
An additional 24 percent of respondents said that same-sex couples should be eligible for some legal recognition or benefits through civil unions. Taken together, that means nearly two-third of Americans, or 62 percent, support the government viewing same-sex unions as legally valid relationships.
That differs sharply from the message sent last week by North Carolina voters, who voted by a large margin to approve an amendment to the state's constitution saying that a marriage between a man and a woman is the only domestic legal union that is valid in North Carolina.
But on a national level, acceptance of same-sex marriage appears to be growing -- a trend that gay rights advocates point to as evidence of a broader shift under way. A recent Gallup poll found that a slim majority of Americans support same-sex marriage, although the nation is almost evenly divided.
Part of what's going on appears to be generational. When Obama declared his personal belief in marriage as a universal right, he said he had been influenced in part by young Americans, including his daughters, for whom the issue appeared to be far less divisive.
You know, when I go to college campuses, sometimes I talk to college Republicans who think that I have terrible policies on the economy or on foreign policy but are very clear that when it comes to same-sex equality or, you know -- sexual orientation -- that they believe in equality, Obama told ABC's Robin Robers. They're much more comfortable with it.
The CBS/New York Times poll found that young people are far more open to same-sex marriage than older Americans. Fifty-three percent of 18- to 44-year-old people said same-sex couples should be eligible for full marriage rights, compared to 24 percent of Americans who are older than 44.
Outright opposition to same-sex unions was constant across all age groups, with about one-third of both the 18-to-44 and the 44-plus cohorts saying there should be no legal recognition.
Democrats were far more likely to approve of same-sex marriage, with 58 percent backing it compared to 9 percent of Republicans. Republicans were more likely to favor civil unions as a vehicle for recognizing same-sex relationships; 37 percent said same-sex couple should be allowed to form civil unions, compared to 27 percent of Democrats.
Sixty-two percent of independents favored some form of legal recognition -- a clear majority chose marriage over civil unions -- while a little more than one-third said same-sex couples should be afforded no legal status. Those numbers mirror the general population.
Despite affirming his personal belief in same-sex marriage, President Obama has said repeatedly that states must chart the way forward. He has ordered the Department of Justice to stop defending a law, the Defense of Marriage Act, that bars the federal government from acknowledging same-sex marriages, and during his ABC interview he said the law tried to federalize what has historically been state law.
What I'm saying is that different states are coming to different conclusions, Obama said. But this debate is taking place at a local level. And I think the whole country is evolving and changing.
© Copyright IBTimes 2023. All rights reserved.
FOLLOW MORE IBT NEWS ON THE BELOW CHANNELS