San Bernardino Shooting Live Updates: 2 ISIS Followers Carried Out California Attack, Islamic State Broadcast Says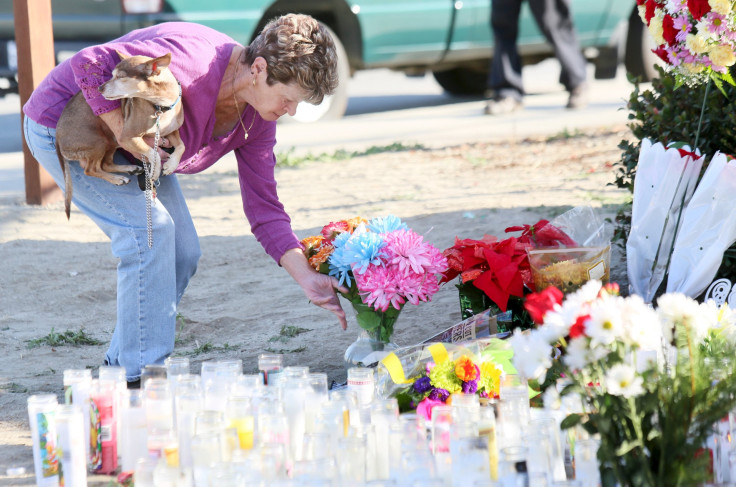 UPDATED 2:30 p.m. EST: The White House issued a statement Saturday saying there is no evidence Syed Farook and Tashfeen Malik were part of a broader terrorist cell.
UPDATED 11:45 a.m. EST: Pakistani relatives of accused San Bernardino killer Tashfeen Malik told Reuters Saturday she and her father became more radicalized during the time they spent in Saudi Arabia and cut off relations with the rest of the family in a feud over inheritance. The family practiced Sufi Islam, which emphasizes a more mystical, personal connection to Islam.
"From what we heard, they lived differently, their mindset is different," school teacher Hifza Bibi, the step-sister of Malik's father, who lives in Karor Lal Esan in central Punjab province, told Reuters. "Our brother ... went to Saudi and since then he doesn't care about anyone here. A man who didn't come to attend his own mother's funeral, what can you expect from him?"
Malik's father moved the family to Saudi Arabia when she was just a toddler.
Javed Rabbani, a clerk in the town of Layyah's education department, said he hadn't seen his brother in three decades.
"We feel a lot of sadness but we also feel ashamed that someone from our family has done this," he said. "We can't even imagine doing something like this. This is a mindset that is alien to us."
Reuters said Malik studied pharmacy in Pakistan from 2007 to 2012 and returned again in 2013 and 2014 but it was unclear with whom she met when she visited. Pakistani media said she had links to the radical Red Mosque in Islamabad.
UPDATE: 7:54 a.m. EST -- A relative of the female shooter involved in Wednesday's attack in Southern California said that Tashfeen Malik became more religious about three years ago. Hifza Batool, who was speaking from Pakistan, told the Associated Press (AP) that Malik, the wife of Syed Rizwan Farook, began wearing the hijab or the all-covering burqa worn by the most conservative Muslim women about three years ago.
"I recently heard it from relatives that she has become a religious person and she often tells people to live according to the teachings of Islam," Batool, who lives in Karor Lal Esam, about 280 miles southwest of the Pakistani capital of Islamabad, told AP about her step-niece, adding that she had never met Malik, who mostly grew up in Saudi Arabia with her family.
UPDATE: 6:56 a.m. EST -- U.S. President Barack Obama said the country "will not be terrorized" and renewed his call for tighter gun control measures in the wake of Wednesday's shooting in Southern California. Obama's comments came during a weekly address Saturday.
Obama vowed that investigators would "get to the bottom" of how and why Syed Rizwan Farook and Tashfeen Malik carried out the attack that killed 14 people.
"It is entirely possible that these two attackers were radicalized to commit this act of terror," Obama reportedly said. "We know that ISIL (Islamic State) and other terrorist groups are actively encouraging people -- around the world and in our country -- to commit terrible acts of violence, often times as lone wolf actors," he said, using an alternate acronym for ISIS, adding: "All of us -- government, law enforcement, communities, faith leaders -- need to work together to prevent people from falling victim to these hateful ideologies."
UPDATE: 4:58 a.m. EST -- The Islamic State group, also known as ISIS, said in an online radio broadcast Saturday that two of its followers carried out Wednesday's attack in Southern California that killed 14 people and injured at least 20 others, Reuters reported.
"Two followers of Islamic State attacked several days ago a centre in San Bernadino in California," the group's daily broadcast al-Bayan said. The news comes after reports surfaced that one of the attackers, Tashfeen Malik, pledged allegiance with ISIS leader Abu Bakr al-Baghdadi on Facebook. However, the FBI, which is investigating the shooting carried out by Malik and her husband Syed Rizwan Farook, said that there was no evidence the attack was carried out by the Sunni-militant group that also claimed responsibility for the Nov. 13 Paris attacks.
UPDATE: 3:10 a.m. EST -- The area surrounding a UPS facility in San Bernardino, California, was evacuated late Friday after a delivery boy found a package addressed to the home of the suspected attackers in Southern California's mass shooting Wednesday.Police later said that the package was determined to be safe and posed no threat, according to reports.
The facility is reportedly a mile from the social service center where Syed Rizwan Farook and his wife, Tashfeen Malik, killed 14 people and injured 20 others.
Original story:
Syed Rizwan Farook, one of the suspects in Wednesday's mass shooting in Southern California, had contact with people from at least two terrorist organizations -- the al Qaeda-affiliated Nusra Front in Syria and the al-Shabab group in Somalia, the Los Angeles Times reported, citing a federal law enforcement official Friday. The news comes as the FBI formally began investigating the shooting at a social service center in San Bernardino as an act of terrorism.
The official reportedly described "some kind" of contact between Farook and people from the Nusra Front and al-Shabab group, but there was no clear information about what kind of contact it was or who the people were. Earlier, officials reportedly said that the second suspect, Tashfeen Malik, had pledged allegiance to the Islamic State group's leader Abu Bakr al-Baghdadi on Facebook.
The law enforcement source also said that investigators were trying to find more details on Farook and his wife Malik's contact with people in the United States and overseas, "especially those in Pakistan," where Malik was born and Farook's family hailed from, L.A. Times reported. The source said that an important question "is if they had any weapons or terror training in Pakistan."
On Friday, Pakistani officials reportedly said that they were trying to determine if the couple, who killed 14 people at the Inland Regional Center, had ties to Islamic militant organizations.
Malik, a native Pakistani who had been living in Saudi Arabia before she met Farook through an online dating site. She entered the U.S. in July 2014 on a fiancée visa, and the couple had one daughter.
FBI Director James Comey reportedly said that the assailants showed signs of "radicalization" but there was no evidence they were part of a larger terrorist network. Officials also cautioned from drawing any conclusions as Malik's Facebook post did not indicate that she and her husband were directed by any terrorist group to carry out the attack. Investigators are reportedly probing the incident as a case of self-radicalization.
Malik's ISIS post was taken down by Facebook as per the company's policy, which doesn't allow any posts that "support or glorify" terrorism, a spokesman reportedly said. The post came at the same time the shooting at the San Bernardino center began.
More details continue to emerge about the lives of Farook and Malik. Nizaam Ali, 23, an acquaintance who prayed with Farook at a San Bernardino mosque, told the L.A. Times Friday that the 27-year-old told him that he liked his wife because she wore a niqab, a veil that covered almost all of her face. Ali reportedly said that the reason for the liking could be as it showed she was religious and wasn't embodying "the modern role of women today, working and all that."
At a news conference Friday, Farook's family attorneys described Malik as a "typical housewife," "isolated" and "conservative," and said that Farook's brothers had never seen her face as she always wore a burqa.
© Copyright IBTimes 2023. All rights reserved.