San Bernardino Shooting Live Updates: Who Is Saira Khan? Syed Farook's Sister Says Killing People Is 'Not Islam'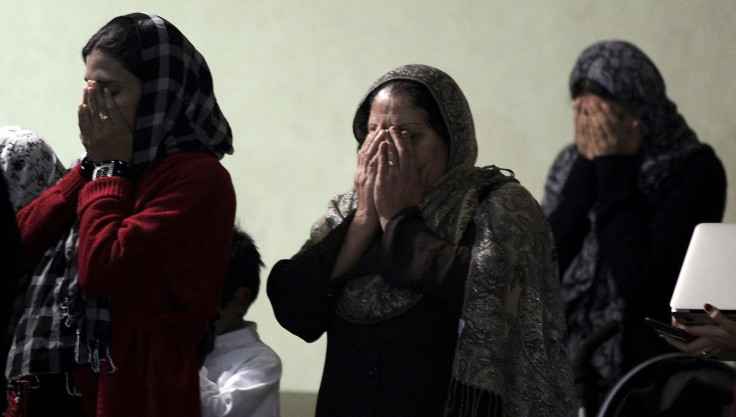 UPDATE: 4:50 a.m. EST -- Saira Khan, the sister of Syed Rizwan Farook, the man suspected of carrying out a mass shooting in San Bernardino, California, said that the actions of her brother and sister-in-law, Tashfeen Malik, had put Islam under a bad light.
"I believe that, you know, that's not Islam. Islam condemns killing or hurting of anybody. Any person," Khan told CBS News in an interview, which is set to air Friday morning.
Meanwhile, Roshan Abbassi, an assistant imam at the Dal-Al-Aloom Al-Islamiyah of America mosque in San Bernardino, who is one of the three men federal police are looking to interview over the shooting, told the Guardian: "We are all against terrorism. … We all want peace."
Abbassi, who had phone contact with Farook, said police quizzed him at gunpoint at his home Wednesday night saying they had phone records that showed the suspect had contact with him at least 36 times. "But each of those could have been for only 10 seconds," Abbassi reportedly said.
Farook reportedly had no criminal record and was not under scrutiny by local or federal law enforcement officials before the attacks. The FBI is investigating the shooting as a potential act of terrorism and is trying to determine the motive.
Original story:
As police investigated the motive behind Wednesday's mass shooting at a social service center in San Bernardino, California, Muslims gathered at one of Southern California's largest mosques Thursday night to denounce the massacre. Law enforcement officials said Thursday that suspect Syed Rizwan Farook, a Muslim, was reportedly radicalized and was in contact with known Islamic extremists on social media.
About 200 Muslims from the Ahmadiyya Muslim Community came together at the Baitul Hameed Mosque in the city of Chino, 30 miles southwest of San Bernardino city, for a prayer vigil. The group's spokesman Amjad Mahmood Khan cautioned people from drawing conclusion that the motives of Farook and Tashfeen Malik were faith-driven, the Associated Press (AP) reported. But he said that the "radicalization of Muslim youth is a problem."
Farook, a 28-year-old county restaurant inspector, and Malik, his 27-year-old wife, opened fire at the Inland Regional Center where about 75 of Farook's co-workers had gathered Wednesday morning. The two reportedly fired between 65 and 75 times at the event, killing 14 people and injuring at least 20 others.
Ever since Farook was named as a suspect, details about his life have emerged, with his friends and co-workers speaking out about him. However, none of the details have so far shed any light on possible reasons behind the shooting rampage.
Brothers Nizaam Ali and Rahemaan Ali, who used to worship with Farook at a mosque in San Bernardino, told the AP Thursday that he had recently stopped visiting the mosque. Farook was known to pray every day at the mosque but "he never, ever talked about killing people or discussed politics, or said that he had problems at work," Rahemaan Ali reportedly said.
Mustafa Kuko, director of the Islamic Center of Riverside, where Farook attended prayers, described him as a quiet man.
Farook was "cool-headed … shy, a little bit withdrawn. He doesn't mix with people easily but he's very polite," Kuko said, according to the Guardian. "I've never seen him get in an argument with anyone."
San Bernardino police Lt. Mike Madden, the first officer to respond to the scene of the shooting, described at a news conference Thursday night the scene of "unspeakable carnage" and "pure panic."
"I could hear it in our dispatcher's voice that this was actually happening," Madden said. "We have an active shooter, we have an active shooter going on in our city.
"This was tragedy that I've never experienced in my career, and I don't think most officers do," he reportedly said. "We resolved that situation quickly, but there's so much tragedy that's left behind."
On Thursday, details also emerged about the two suspects and the "arsenal" of weapons used in the massacre. Farook and Malik reportedly had 1,600 rounds of ammunition with them when police shot them dead during a standoff that began nearly four hours after the shooting. Another 4,500 rounds of ammunition were recovered by police during a raid at Farook's family home in the nearby town of Redlands, ABC News reported. Police chief Jarrod Burguan reportedly said Thursday that Farook and Malik left three rigged-together pipe bombs with a remote-control detonating device that apparently malfunctioned.
"There was obviously a mission here. We know that. We do not know why. We don't know if this was the intended target or if there was something that triggered him to do this immediately," said David Bowdich, assistant director of the FBI's Los Angeles office.
The San Bernardino Police Department on Thursday released photos of weapons and SUV used by the suspects. Authorities are currently searching for a man who bought the two rifles used in the shooting, a law enforcement official said, according to the AP.
© Copyright IBTimes 2023. All rights reserved.