San Francisco 49ers, Baltimore Ravens Are Odds-On Favorites To Meet In Super Bowl 2020
The Baltimore Ravens beat the San Francisco 49ers in Super Bowl XLVII when brothers John and Jim Harbaugh competed head-to-head for a championship. Seven years later, the two teams have a good chance to meet in a rematch.
Heading into the 2020 NFL divisional playoffs, both the Ravens and 49ers are odds-on favorites to reach Super Bowl LIV. Baltimore has -120 betting odds to win the AFC. San Francisco is a -110 favorite in the NFC.
Both teams are big home favorites Saturday. The Ravens are laying 10 points against the Tennessee Titans, according to OddsShark. The 49ers are touchdown favorites over the Minnesota Vikings.
Baltimore won five more regular-season games than Tennessee, leading the NFL with a 14-2 record. They are on a 12-game winning streak and haven't lost since September. Lamar Jackson is the clear frontrunner to win the MVP award.
San Francisco won three more games than Minnesota. The 49ers went 13-3, beating both the No.2 seed Green Bay Packers and the No.3 seed New Orleans Saints along the way.
Since Baltimore won the title in 2013, no team has even reached the Super Bowl without getting a first-round bye.
The No.2 seed won both conference title games a year ago. The Kansas City Chiefs are given the best chance to pull off that feat in 2020 with +175 odds to win the AFC.
Kansas City was beaten at home in the 2019 AFC Championship Game. The Chiefs were one of two teams to beat the Ravens during the regular season, though they did it at Arrowhead Stadium all the way back in Week 3.
Green Bay has +300 odds to win the NFC. The 49ers blew out the Packers 37-8 in San Francisco in Week 12.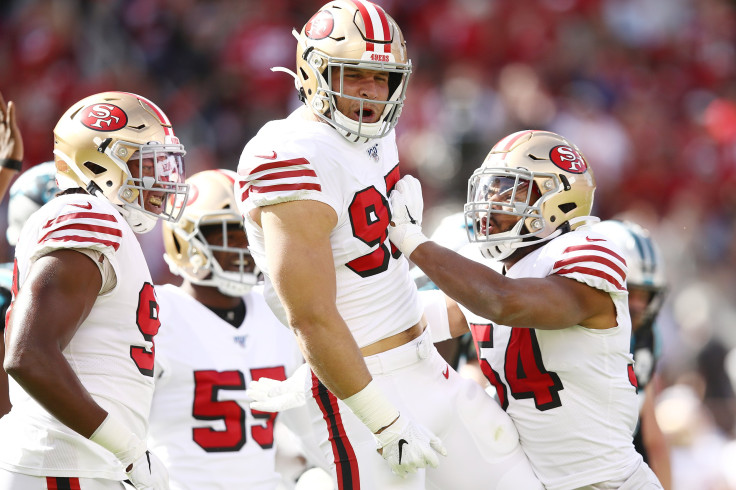 © Copyright IBTimes 2023. All rights reserved.