San Francisco Giants Defeat St. Louis Cardinals In Game 5 On Travis Ishikawa Walk-Off Home Run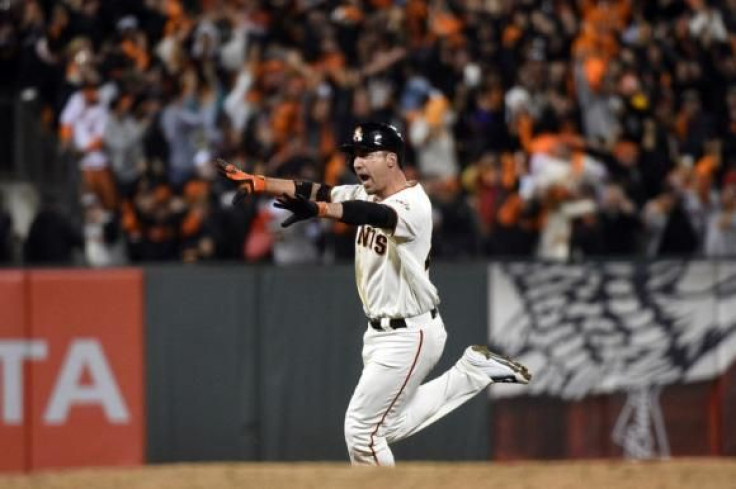 In yet another magical ending to a playoff game, Travis Ishikawa etched his name on to history books with a walk-off home run in the bottom of the ninth inning at AT&T Park on Thursday night to advance the San Francisco Giants to the World Series with a 6-3 win over the St. Louis Cardinals in Game 5 of the National League Championship Series.
With the 4-1 series victory, the Giants have reached the World Series in three of the past five seasons. San Francisco will now face the Kansas City Royals in the 2014 World Series.
The Giants used the long ball to advance to the Fall Classic. Michael Morse hit a pinch-hit homer in the bottom of the eighth inning to tie the game, but Ishikawa's shot was the first walk-off homer to send the Giants to the World Series since Bobby Thomson in 1951.
"It's a great feeling right now, I can't describe it," Ishikawa told reporters after the game. "I was just trying to look for a good pitch to hit. I got a fastball. I'm just so thankful for this organization to give me this opportunity."
The home-run surge was rather surprising for the Giants. San Francisco had not hit a homer in six straight playoff games, but hit three in Game 5. Second baseman Joe Panik was a big contributor for the Giants. The 23-year-old hit a two-run homer in the third inning to give the Giants the lead.
The Giants were also led by a strong pitching effort from their starter and two relievers. Madison Bumgarner allowed just three runs over eight innings, while Santiago Casilla and Jeremy Affeldt finished off the Cards with a shutout ninth inning. Affeldt got the win, while Bumgarner won the NLCS MVP.
"These guys have been through it," Giants manager Bruce Bochy said. "They have been battle-tested and they know how to handle themselves on this type of stage, and then add to that the kids that we brought up, and then Ishikawa. I mean, what a great story."
The Cardinals got a solid effort from ace Adam Wainwright. The right-hander allowed just two runs over seven innings, and struck out seven. But the bullpen was not able to hold onto the lead. Pat Neshek surrendered the homer to Morse, and Michael Wacha gave up the three-run homer from Ishikawa. St. Louis managed just six hits, but Matt Adams and Tony Cruz were able to keep the Cards in the game with solo homers in the fourth inning.
Game 1 of the World Series will take place on Wednesday night at Kansas City's Kauffman Stadium.
© Copyright IBTimes 2023. All rights reserved.