Sanya Richards-Ross, Wife Of Former New York Giant Aaron Ross, Wins Gold Medal In 400-Meter At London Olympics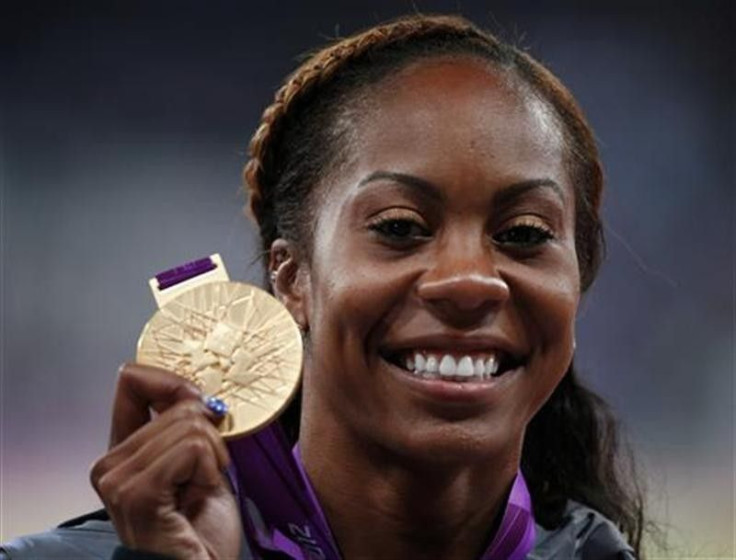 Sanya Richards-Ross, the wife of former New York Giant cornerback Aaron Ross, took home the gold medal in the 400-meters at the Olympics in London.
Richards-Ross's win comes four years after an emotional loss left her unsatisfied with an Olympic bronze medal.
"What I have learned is you don't win the race until you win the race," Richards-Ross told the Associated Press. "I knew I had to cross the finish line first to call myself the Olympic champion."
Aaron Ross's wife blasted across the finish line completing the race by about a body's length ahead of her opponents and even punched her fist when she crossed the line. Clocking in at 49.55 seconds on Sunday night, Richard-Ross gave the U.S. its first track and field gold medal of the London Olympics.
"I just kept saying, 'You can do this, you can do this,"' she said. "I just dug really deep and I'm very happy."
At the end, she wrapped herself in the American flag and went to the stands to embrace her husband, who received special permission to take time off from training camp to travel to London.
"You finally did it, you finally did it, babe," he told his wife. "Enjoy the moment."
Ross admitted Thursday on NFL Network's "NFL AM" that his wife is faster than him.
"I might get her in the 40," he joked. "(In the) 100, I might lean at the line. 200, I don't have a chance, and the 400 -- I wouldn't even get on the track."
Now that Richards-Ross has an Olympic gold medal to her name, she can finally compare hardware in the household to her husband's two Super Bowl rings, both of which were won when he played with the New York Giants. But according to the winner of the 400-meter, there's definitely no competition between the two.
"We don't compete," Richards-Ross said. "His Super Bowl ring just gave me motivation."
Defending champion Christine Ohuruogu of Britain finished second in 49.70 and American DeeDee Trotter, decked out in red, white and blue glitter on her face, won the bronze in 49.72.
© Copyright IBTimes 2023. All rights reserved.