Sarah Brady Death: Bill And Hillary Clinton Release Statement On Death Of Gun-Control Advocate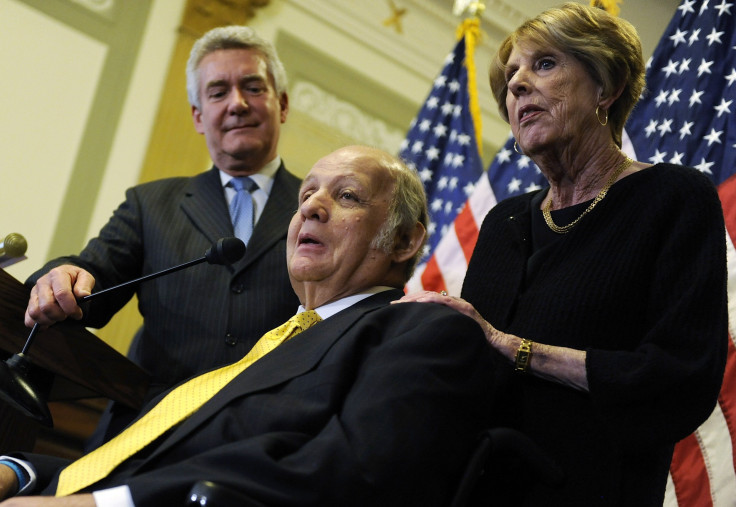 Former U.S. President Bill Clinton and former Secretary of State Hillary Clinton paid tribute to the late Sarah Brady, a longtime gun-control advocate and wife of the now-deceased White House Press Secretary James Brady, in a joint statement Saturday.
Sarah Brady, who died of pneumonia at the age of 73 Friday night, lobbied for the Brady Handgun Violence Prevention Act, aka the Brady Act, which required background checks and five-day waiting periods for firearms purchases. The bill was signed into law by Bill Clinton in 1993.
"Sarah and her late husband Jim were fierce champions of sensible gun legislation, for which few could make as passionate or as personal a case," the Clintons said in their statement. "She transformed tragedy into a courageous campaign, and because of her work and her remarkable life, American families are safer today."
Sarah Brady became a prominent voice for stricter gun legislation after her husband was critically injured in an assassination attempt on President Ronald Reagan in 1981. Reagan made a full recovery from the attack, but James Brady, who was press secretary at the time, was left partially paralyzed. A bullet struck him in the head, and the resulting injuries kept him in a wheelchair for the remainder of his life. He died last August.
Sarah Brady was the chair of the Brady Campaign and Center to Prevent Gun Violence, which released a statement about her Friday. "Our nation has lost a great hero, and I have lost a dear friend," Dan Gross, president of the center, said in the statement. "I am certain that she would want nothing more than to know we are carrying on her and Jim's legacy with the same fiery compassion and dedication that made her so remarkable."
Both lifelong Republicans, the Bradys attended the 1996 Democratic National Convention in support of Bill Clinton's re-election effort. Sarah Brady even singled out Clinton for praise during the convention, noting his role in the adoption of the Brady Act. "Thank you, Mr. President," she said in a speech at the convention. "That moment was the proudest moment of our lives."
U.S. Sen. Charles Schumer, D-N.Y., who introduced the Brady Act as a member of the House of Representatives in 1993, also recognized and lamented Brady's death. "Sarah Brady took the tragedy of her husband's shooting and turned it into a movement that saved tens of thousands of lives," he said in a statement. "She was strong and forceful, sweet and kind, and someone I considered a friend and patriot for decades. She was a true hero and will be missed by America."
© Copyright IBTimes 2022. All rights reserved.
FOLLOW MORE IBT NEWS ON THE BELOW CHANNELS