Sarah Palin Supporters in Iowa Urge Her to Run for President Ahead of Tea Party Rally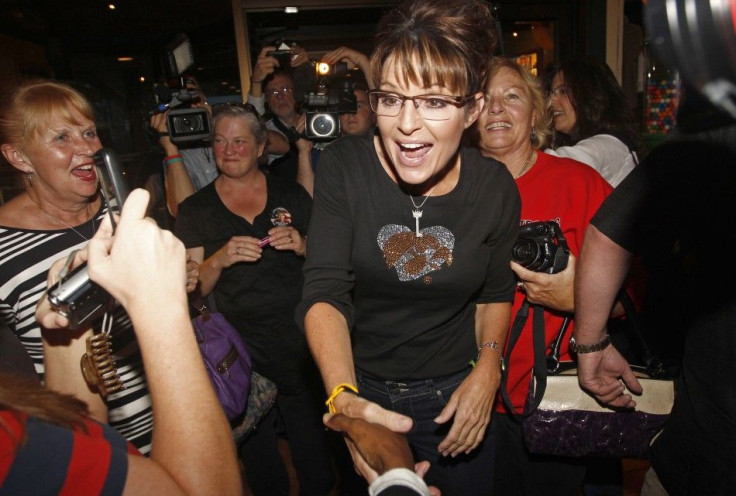 Sarah Palin has been greeted by hundreds of supporters and well-wishers in Iowa as she prepares to deliver a speech at a Tea Party rally on Saturday in the town of Indianola.
On Friday night, the former Alaska governor was wildly cheered by a group from Conservatives4Palin at restaurant in the town of Urbandale, just outside Des Moines, many of whom are urging her to run for President in 2012.
The Des Moines Register reported that as soon as Palin arrived, the crowd chanted "Run, Sarah, Run!"
Palin did not make a speech, but made small talk with the crowd and posed for photographs.
The Register said that when she was asked for her view of the current crop of Republican presidential candidates, Palin replied: "Happy with the field of candidates. I always think that there's room for more, though, because spirited debate and more competition will allow an even better discourse and more rigorous discourse that the public deserves."
According to the Los Angeles Times, many of the crowd that gathered in Iowa came by bus from Texas, the home state of Rick Perry, who is now considered the front-runner to win the GOP nomination.
"Perry represents crony capitalism," said Mai Duong, a naturalized citizen from Vietnam according to the Times. Duong said she was inspired to get involved in politics after the way Palin was treated by the press during her stint as John McCain's Vice-Presidential candidate during the 2008 election.
"A current governor shouldn't be labeled as 'bimbo' or 'stupid,'" said Duong. "I think the media did her wrong. I was shocked at the amount of negative reporting."
Another Palin supporter, Joanna Holbrook from Traverse City, Mich., told the Times: "I got so excited that I thought I'd come no matter what. I am a mother of nine. She is a mother of five. She loves the Lord. I love the Lord. She loves America. I love America. Sarah is so down home. She's just one of us."
Peter Singleton, a lawyer and Palin supporter, told the Register: "This is not about Sarah Palin. This is not about any candidate. This is about us as a people. But we need a leader. There is no one who has the political courage and the vision of this woman."
However, according to reports, Palin made no mention of her presidential ambitions during her appearance at the restaurant. She has said that she will not make a decision on running until the end of September.
© Copyright IBTimes 2023. All rights reserved.