Sarkozy To Sue Website Over Claims That Gadhafi Funded His Campaign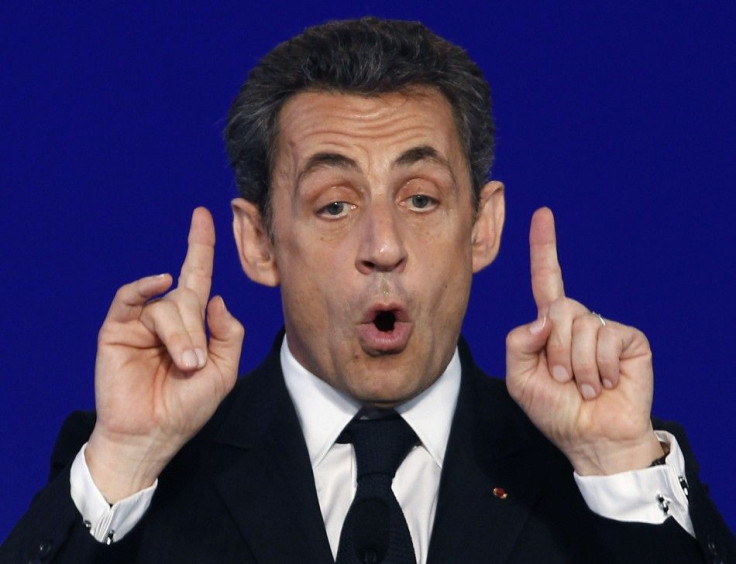 Less than a week ahead of the presidential election, French President Nicolas Sarkozy has threatened to sue a website over articles which claimed that the slain Libyan dictator Moammar Gadhafi donated around $65 million to his 2007 presidential campaign.
The latest in the series of stories alleging the illegal finance flow from Libya, published on the investigative journalism website Mediapart on Saturday, is a 2006 document from the Libyan foreign minister outlining the donation deal. The site has claimed that the new document provides proof to verify rumors, which Sarkozy has been struggling to ward off, ever since Gadhafi's son first made the claim last year.
Sarkozy, who has been losing in the opinion polls to his Socialist contender Francois Hollande in the runoff for presidency, strongly denied the accusations of illegal funding from Libya, saying the latest document was fabricated. He also criticized Agence France Presse for publishing a related story.
We are making a complaint against Mediapart, Sarkozy said in a tweet, as translated by the New York Times. It will be filed before the end of the campaign.
Do you really think that with what I did to him, Mr. Gadhafi would have made me a bank transfer? a visibly agitated Sarkozy said in a television interview. Why not a signed check?
There's a section of the press, of the media, and notably the site in question whose name I refuse to mention, that is prepared to fake documents. Shame on those who have exploited them, Sarkozy was quoted as saying by the AFP.
Libyan foreign minister Moussa Koussa, named by Mediapart as the author of the document, has denied its authenticity, calling the accusations by Mediapart completely unfounded.
According to the AFP, Paris prosecutors have opened a preliminary inquiry into Mediapart's document.
Francois Bonnet, Mediapart's editorial director, has rejected the legal threat, terming Sarkozy's allegations of forgery simply grotesque and defamatory, the Daily Telegraph reported.
Responding to the allegations, Hollande said the judges will decide if Sarkozy is guilty or not of receiving funds from Gadhafi.
If it's a fake then the site will be found guilty, if it's not a fake then he (Sarkozy) will have some explaining to do, Hollande said.
Hollande and his campaign team have played down the re-emergence of former International Monetary Fund (IMF) chief Dominique Strauss Kahn, who was a guest at a Socialist lawmaker's party in Parris over the weekend.
© Copyright IBTimes 2023. All rights reserved.