Satanic Temple Turns Westboro Baptist Church Founder's Mom Gay, 'Pink Mass' Performed On Catherine Idalette Johnston [PHOTO]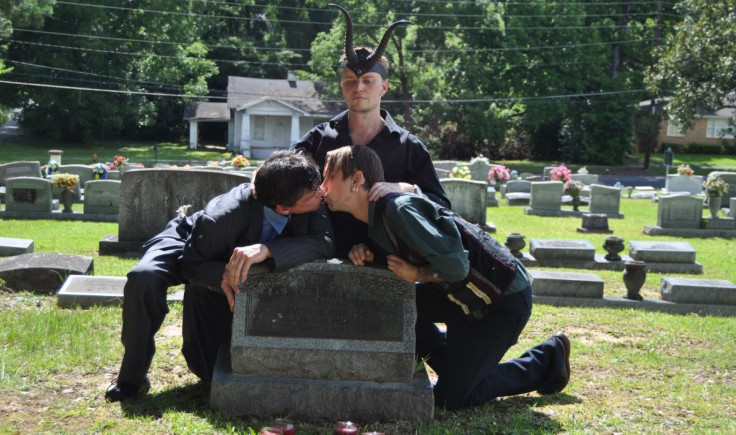 Members of a satanic temple have performed a "pink mass" over the grave of Westboro Baptist Church founder Fred Phelps Jr.'s mother, Catherine Idalette Johnston. The ritual is a same-sex ceremony aimed at turning Johnston gay in the afterlife.
The ceremony, performed on Sunday by top officials at the Satanic Temple in New York, involved two same-sex couples kissing on top of Johnston's tombstone while a high priest recited an incantation. The ritual is believed to change the sexual orientation of the deceased person in the afterlife, the Gauntlet reports.
"The Satanic Temple now believes that Fred Phelps must believe that his mother is now gay, in the afterlife, due to our Pink Mass. ... And nobody can challenge our right to our beliefs," Satanic Temple spokesman Lucien Greaves told the Gauntlet.
Members decided to travel to the gravesite located in Meridian, Miss., after the Westboro Baptist Church members threatened to picket the funerals of the victims of the Boston Marathon bombings. When the group didn't show, they issued a statement saying they were present "in spirit," Greaves said in a statement.
"We decided that a same-sex couple celebrating ceremony at the grave-site of Fred Phelps' mother was an appropriate way to meet the Westboro Baptists, 'in spirit', but this time on our terms," she added.
The Westboro Baptist Church, an extreme religious group known for its views against gay people, has reportedly staged more than 50,000 protests since the early 1990s. The group recently announced it will be protesting the funeral of Cory Monteith. "PRAISE GOD ALMIGHTY for killing Cory Monteith -- a wicked f-- enabling sinner!" the church wrote on its Twitter account.
On a website dedicated to the Pink Mass at Johnston's grave, the Satanic Temple invites same-sex couples to express their love "respectfully" at Johnston's gravesite, noting that "every time a same-sex couple kisses over a gravesite, the now-gay deceased is pleasured in the afterlife."
In a description on the group's Indiegogo fundraising page, the Satanic Temple defines itself as a group that "boldly stands forth to assert the too-often-marginalized voices of religious nonbelievers" where "Satan stands as the ultimate icon for the selfless revolt against tyranny, free and rational inquiry, and the responsible pursuit of happiness."
© Copyright IBTimes 2023. All rights reserved.