Satellite Captures Catastrophic Destruction Caused By Hurricane Ian Visible From Space [Photos]
KEY POINTS
Hurricane Ian made landfall on the Gulf Coast of Florida on Sept. 28
Hurricane Ian's residues are still causing rain in New York and New England
Another Category 1 storm is being monitored by weather forecasters
Category 4 storm Hurricane Ian battered Florida's coastal area, disrupting the lives of many people. The satellite images taken by a U.S. company, Maxar Technologies, show just how destructive the storm was for Floridians.
Hurricane Ian made landfall on the Gulf Coast of Florida on Sept 28. Since then, it has claimed 100 lives, FloridaToday reported Monday. The storm pounced on the coast with terrifying wind speeds of over 155 mph (250 kph).
Maxar Technologies took before and after images of Matlacha pass bridge and Sanibel causeway, which showed the havoc hurricane Ian caused to these areas. Sanibel causeway, in particular, saw a part of its area vanish after the storm. Matlacha pass bridge also lost a chunk of land to the storm.
The images taken of the north port exhibited major flooding with many neighborhoods inundated.
Also, satellite images were taken of the public works department and railyard in Arcadia, showcasing extensive damage to public property.
The devastation caused along the beach in Fort Myers, in County Lee, on Florida's west coast, was also caught by the satellites. The area witnessed the disappearance of entire neighborhoods by the storm, which led to more than 12 feet (3.7 meters) rise in sea levels when compared to normal tidal levels, according to Skynews.
The dirty water from flooded areas was seen distinctively while receding the coast of Don Pedro Island, the satellite images showed.
Before and after images of an RV park and marina area in Fort Myers beach showed the catastrophic effects of the storm.
These images are a heartbreaking reminder of what Florida and its people had to endure during the storm and even after that.
The 2022 Atlantic hurricane season is looming large. Opening the season was Hurricane Fiona which hit Puerto Rico one week before Ian, after which it headed over to Canada with its remaining strength.
Hurricane Ian, after ravaging Florida, went on to make landfall for the second time in South Carolina as it regained its strength over the Atlantic Ocean. In the process, it cut power to 200,000 homes. Hurricane Ian's residues are still causing rain in New York and New England.
Another category 1 storm, Tropical Storm Orlene is being monitored by weather forecasters. It made landfall in southwest Mexico on Monday.
Satellite images of hurricane Ian as it made landfall in Florida were also taken by the International Space Station.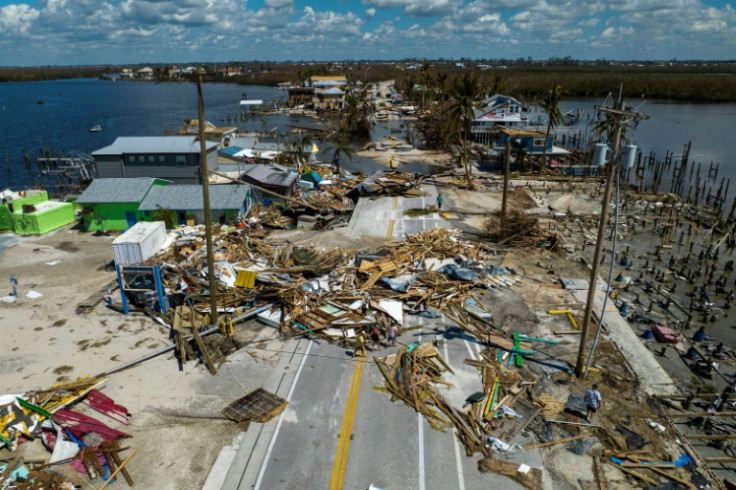 © Copyright IBTimes 2023. All rights reserved.