Satellite Data Shows Great Lakes' Record Warm Temperatures
KEY POINTS
The only area below normal temperature was the eastern portion of Lake Superior
Water levels in some parts of the lakes also rose to unusually high levels
Warmer waters cause concerns over potentially harmful algal blooms
NASA Earth Observatory recently shared a map that showed warm water temperatures in the Great Lakes just months after satellites captured lower than average ice cover in the region during the winter. The temperatures in the lakes are now near or above the records for this time of the year.
It was in February that NASA Earth Observatory shared satellite images of the Great Lakes with lower than normal ice cover. Specifically, the Feb. 14 image showed just 17% of ice cover in the Great Lakes surface area combined, when the normal average ice cover during that time is at 41% depending on the year.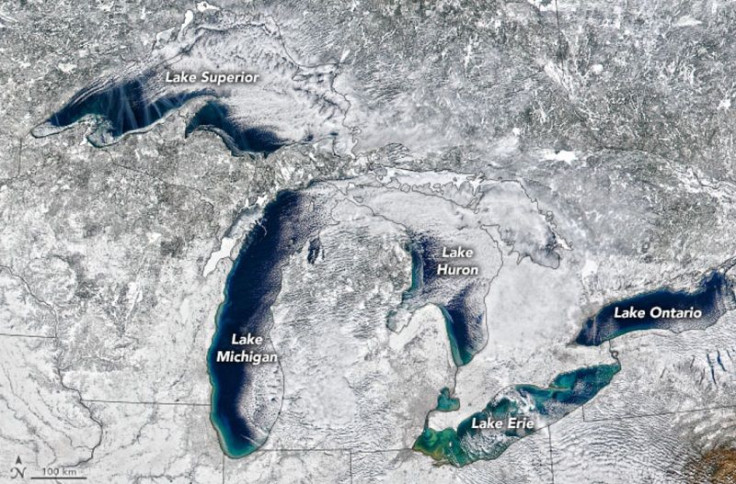 Months after an unusually warm winter, summer has taken hold of the Great Lakes, and NASA Earth Observatory shared a map of the surface layer temperatures at the lakes nearing or already above the records for this time of the year.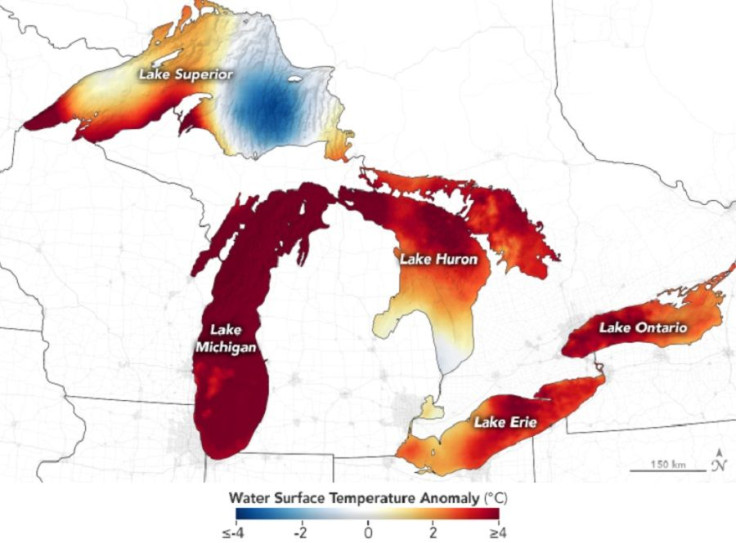 In the map, which came from the Multiscale Ultrahigh Resolution Sea Surface Temperature project and was put together from measurements made by multiple satellites, surface temperatures at the lakes were six to 10 degrees Fahrenheit above normal for early July. In fact, the only area that was below normal was the eastern portion of Lake Superior.
The water levels in some parts of the lakes also rose to unusually high levels in May, June and July.
These high temperatures are causing concern over the growth of potentially harmful algal blooms. Such blooms thrive in warmer waters and may produce toxins that can harm people, animals and even local economies.
This is why people are advised to keep themselves as well as their pets away from scummy water that smells bad. In early July, for instance, a dog died just about an hour after swimming in a river that eventually tested positive for the deadly toxin produced by several kinds of cyanobacteria.
Harmful algal blooms are a major environmental problem in all 50 states of the United States, but even non-toxic blooms can end up hurting the environment and economy.
Fortunately, the National Oceanic and Atmospheric Administration's forecast for Lake Erie, which typically gets algal blooms from July to October, remains to be for a moderate bloom this summer. In fact, it is expected to be among the smaller blooms since 2011.
© Copyright IBTimes 2022. All rights reserved.
FOLLOW MORE IBT NEWS ON THE BELOW CHANNELS