NOAA-NASA Satellite Image Shows Lower Than Average Great Lakes Ice Cover
KEY POINTS
NOAA-NASA satellite image shows the low ice cover on the Great Lakes
The ice cover was significantly lower than the average
Since the 1970s, ice cover in the Great Lakes has been on a downward trend
An image from NASA and the National Oceanic and Atmospheric Administration's (NOAA) Suomi NPP satellite shows the effect of this year's warm temperatures on North America's Great Lakes. Typically, parts of the Great Lakes freeze over at wintertime but, the new natural-color image taken last Feb. 14 shows that the annual freezing was a bust for 2020.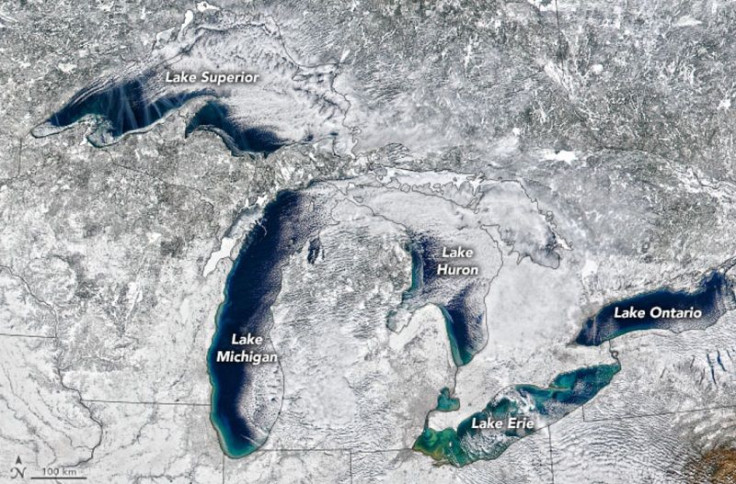 Small patches of ice can be seen along the lakes' shorelines but, according to the NASA Earth Observatory, the ice cover on the day that the image was taken was significantly lower than the average Feb. 14. Specifically, the ice cover that day was just 17 percent of all the Great Lakes surface area combined when the average Feb. 14 ice cover equals 41 percent of the Great Lakes' surface area depending on the year. During the 2013-2014 winter season, for instance, ice cover on the Great Lakes reached 88 percent coverage.
This year, however, it appears as though the opposite is happening to the Great Lakes given the lower than average ice cover. In fact, just days after the Feb. 14 image was taken, the ice cover even dropped to just 16 percent.
As NASA Earth Observatory explains, whether the ice cover for the year is good or not depends on air temperature and, unfortunately, warmth took over the season.
"The year-to-year change in air temperature is the major factor in the winter ice cover," Jia Wang of NOAA's Great Lakes Environment Research Laboratory said. "The contribution from global warming is smaller, but it adds some warming to the larger warming caused by year-to-year change of the four teleconnection patterns."
Unfortunately, the ice cover during winter can have a lasting effect on the Great Lakes for the remainder of the year, something that can, in turn, affect the Great Lakes ecosystem as well as the people who rely on it.
In 2018, the NOAA noted that there has been a downward trend in Great Lakes ice cover since the 1970s. Specifically, if one looks at the year to year data, the ice cover can change drastically from having a lot of ice to having little ice but, the overall trend is moving downward.
© Copyright IBTimes 2023. All rights reserved.
FOLLOW MORE IBT NEWS ON THE BELOW CHANNELS