Satellite Snaps Spooky Halloween Crack In Antarctica [Photo]
KEY POINTS
The crevice is situated in a zone called the McDonald Ice Rumples
The Halloween crack is stable
The adjacent Brunt Ice Shelf's tip is, however, "hanging by a thread"
The European Space Agency (ESA) shared an image Monday of the Halloween crack its satellites had captured on Oct. 25.
The image, which showed the Halloween crack in red color, was photographed by the Sentinel-2 satellite mission, a part of Europe's Copernicus Earth-observation program.
The Halloween crack is stable, according to ESA, but what is concerning is the adjacent Brunt Ice Shelf's tip. The shelf is "hanging by a thread," with ice that is just about one-third of a mile (600 meters) in length, keeping the tip connected to the rest of the shelf.
"If and when this potential rupture point finally gives way, it is expected to spawn a huge iceberg about 1750 square kilometers [675 square miles]," ESA officials wrote Monday, "which is over five times bigger than the size of Malta." For context, Malta is about 10% the size of Rhode Island, the smallest U.S. state.
The footage may help in forecasting the concomitant sea rise in the event of the precarious tip flowing into the nearby Weddell Sea. The ice shelves do not pose any harm to increasing sea level since they float, but they do reduce the speed of the flow of land ice into the ocean, ESA said.
"Owing to climate change, Antarctica's ice shelves are weakening, leading to greater risks of more land ice ending up in the oceans and thereby adding to sea-level rise, something arguably more frightening than Halloween," the agency wrote.
The Halloween crack is so named because it was first discovered on Halloween, precisely Oct. 31, 2016. The crevice is situated in a zone called the McDonald Ice Rumples. Here, the lower part of the ice shelf is grounded to the seabed below. The fact that it is attached also slows down the flow of ice further.
Satellite surveillance of remote areas such as Antarctica offers insight into "how ice shelves are coping in response to changes in ice dynamics, air and ocean temperatures," ESA concluded.
ESA has also recently released a clip of the sound of the Earth's magnetic field, and it's terrifying to listen to.
In the audio clip, one can hear the sound, which is rather spooky. With the creaks and heavy hum in the background, one could easily think it's from a horror movie.
The sound was the work of the ESA's Swarm satellites, a group of three identical satellites that were launched to survey the Earth's geomagnetic field. In a new project, scientists from the Technical University of Denmark used the data gathered by the satellites and converted it into sound.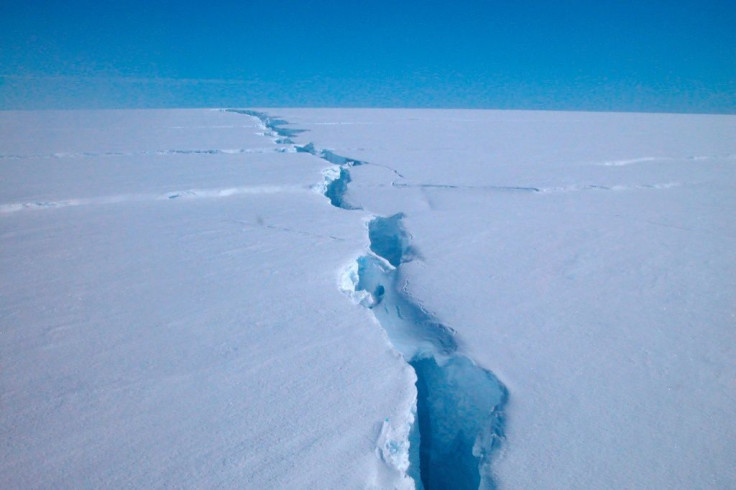 © Copyright IBTimes 2023. All rights reserved.
FOLLOW MORE IBT NEWS ON THE BELOW CHANNELS