Saudi Arabia May Use Economic Clout To Squeeze Iran: Prince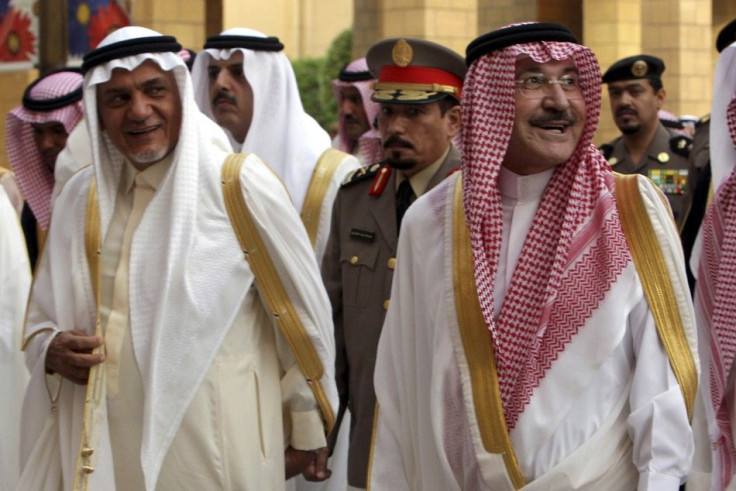 Saudi Arabia may be forced to use its oil policy and enormous economic clout as a way to foil Iran's nuclear power program and regional ambitions, according to a report in The Wall Street Journal.
Saudi Prince Turki al-Faisal reportedly told a private group of British and American servicemen at an airbase in England that Iran is very vulnerable in the oil sector, and it is there that more could be done to squeeze the current government,
Turki, a former Saudi ambassador to the U.S. and U.K. as well as the former chief of Saudi intelligence, currently holds no official position in Riyadh.
Saudi Arabia is greatly concerned by Iran on many levels. Tehran, a Shia Muslim power, is seeking to expand its influence in the Mid-East, putting it face to face against the Saudis, who are ruled by a Sunny Muslim elite.
For example, the Iranians have repeatedly condemned the Sunni rulers of Bahrain who have cracked down brutally on protesters (most of whom are part of that nation's Shia majority); while the Saudis have steadfastly supported and aided the Bahrain royal family.
According to WSJ, Turki also told that assembly that Tehran's meddling and destabilizing efforts in countries with Shiite majorities, such as Iraq and Bahrain, as well as those countries with significant Shiite communities…must come to an end. Saudi Arabia will oppose any and all of Iran's actions in other countries because it is Saudi Arabia's position that Iran has no right to meddle in other nations' internal affairs.
The Saudis believe that Iran is supporting the anti-government movements in both Bahrain and Yemen (two of Saudi Arabia's next door neighbors). The Saudis are also worried about Iranian support of the Hezbollah in Lebanon – Hezbollah is on the verge of taking a majority position in Beirut's cabinet.
Even within OPEC, the Saudis have urged other members to raise output in order to lower global oil prices, while Iran has strongly resisted this decision.
Turki reportedly said that the Saudis can easily compensate for lower reduction in oil production by Iran, adding that Tehran's economy and finances would be paralyzed by falling oil exports.
To put this into perspective, Saudi Arabia has so much [spare] production capacity -- nearly 4 million barrels [per] day -- that we could almost instantly replace all of Iran's oil production, the prince said.
Perhaps of greater concern to Riyadh is Iran's incipient nuclear program (which Tehran claims is being developed only for peaceful purposes).
Turki said: It is in our interest that Iran does not develop a nuclear weapon, for their doing so would compel Saudi Arabia, whose foreign relations are now so fully measured and well assessed, to pursue policies that could lead to untold and possibly dramatic consequences."
The Saudi will also seek to challenge Iranian influence in Iraq (a Shia-majority country).
There are people and groups in Iraq that are, as much as they deny it, completely beholden to Iran, and that is not only unacceptable, but it is bad for the future of an ethnically and religiously diverse country, Turki said.
© Copyright IBTimes 2023. All rights reserved.