Saudi Woman Without Hijab Attacked: Execution Called For By Conservative Muslim Twitter Users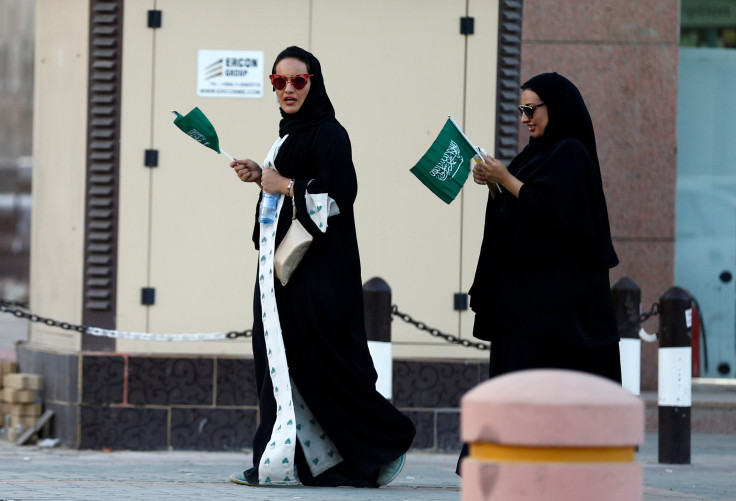 A number of Saudi social media users reacted with anger when a woman posted Monday a picture showing her in Riyadh without the traditional body covering known as the abaya and headscarf known as the hijab.
A 21-year-old student from the city of Dammam who called herself Sara Ahmed for fear that her real name could put her in danger shared the tweet of a woman named Malak Al Shehri photographed wearing a dark blue coat, bright multicolored skirt and boots. Next to the picture, she included screenshots of three tweets by accounts calling for justice and even violence against Shehri. All three tweets included an Arabic hashtag that translates to "We demand the imprisonment of the rebel Angel Al Shehri." The name Malak translates to "Angel" in Arabic.
"Kill her and throw her corpse to the dogs," @ab_alshdadi wrote, while @ilQil tweeted "we want blood." Many others insulted Shehri's morals.
Ahmed explained that Shehri tweeted to her followers from her account @AngelQShe, which has since been deleted, saying she was going out to breakfast without wearing a hijab or abaya. Her followers asked her to post a picture. The photo began circulating throughout social media in Saudi Arabia, and Shehri ultimately received hateful messages.
"So many people retweeted it and what she did reached extremists, so she got threats. She deleted her tweets but they didn't stop, so she deleted her account," Ahmed told International Business Times over Twitter.
Many other users came out in support of Shehri's actions.
"Just imagine one day you slept and then woke up to people calling for your imprisonment only because you changed your clothing. Now you know the extent of the oppression against women in Saudi Arabia," @abuahmedalqarni wrote. @msafr2002 tweeted: "The people have reached such a dangerous stage of extremism that they demand the imprisonment of a girl because she changed the way she dressed, if she was a foreigner it'd be fine."
@danielcroona called Shehri "a modern Rosa Parks."
Female users were especially vocal. "It's about time to protest against this discriminative abaya prison against women," tweeted @FarahAqqad. @uuuuuakj wrote: "They're literally saying that 'Covering her body is more important than her life.'"
International Business Times was unable to get in touch with Shehri. However, Ahmed, who identifies as atheist, said this is not an uncommon occurrence. She mentioned that just a couple of days ago, the phrase "Saudi women remove their abayas in the rain" was trending along with hateful and sexist comments. She said this sort of behavior restricts women from even the simplest of freedoms.
"I'm an atheist and I still wear the hijab in most places because that's how society here is it's inexcusable to remove it, in fact, many of my atheist friends have to cover their faces because their families are more conservative than mine, and it's not just atheists, many Muslim women want to remove them," she wrote.
"The tweets were sad, just basic things are dreams here," she added.
Despite this reality, Ahmed said she has seen more Saudi women with uncovered faces and even without hijabs in major cities, especially among the younger generation.
Those who do cover up wear the abaya, the hijab, the niqab — a full body covering that leaves a slot open in front of the eyes — or the burka, a head-to-toe covering with a mesh veil in front of the eyes. Though dress code tolerance varies from region to region in Saudi Arabia, non-Muslim foreigners are usually required to at least wear the abaya and Muslim women to at least wear the hijab.
The state of women's rights in Saudi Arabia has been criticized by international watchdog organizations. Civil liberties are some of the region's most restrictive for women and the issue has been the subject of media investigations and documentaries such as the New York Times' "Ladies First."
© Copyright IBTimes 2022. All rights reserved.
FOLLOW MORE IBT NEWS ON THE BELOW CHANNELS