Save the Children Tony Blair Controversy: Leak Reveals Executives' Panic Over Backlash Against Award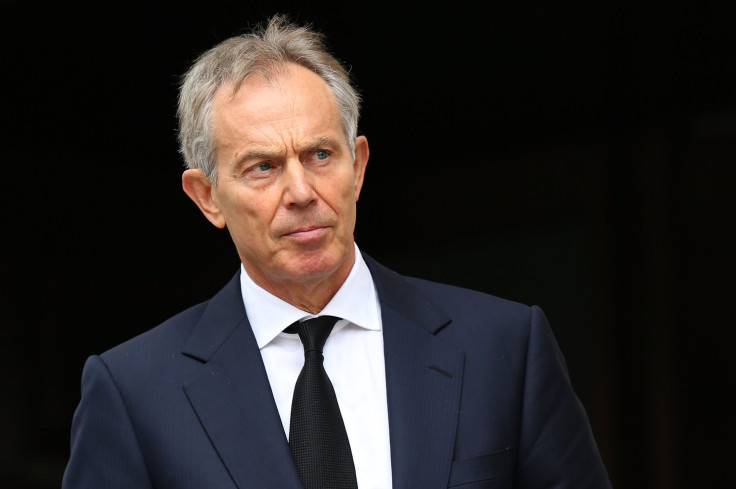 Executives at Save the Children admitted there should have been more risk assessment over whether to present Tony Blair their "global legacy award", according to a leaked internal email.
The charity said they are aware the decision "touched a nerve" and steps are now being taken to "contain" the fallout around it.
Save the Children was criticized by its own members of staff for giving the former prime minister the award during a ceremony in New York for his "leadership on international development" despite him leading Britain in the 2003 invasion of Iraq.
Blair, who has been of accused of committing war crimes, is also expected to be criticized in a government-led inquiry into the war, due out next year.
Around 200 members of staff signed a letter protesting the "morally reprehensible" decision.
"We consider this award inappropriate and a betrayal to Save the Children's founding principles and values," it added.
An online petition calling for the award to be revoked as many see Blair as the "cause of the deaths of countless children in the Middle East" has also attracted more than 114,000 signatures.
Save the Children chief executive, Jasmine Whitbread, has now said she is "frustrated and disappointed" by the fallout but urged all staff members to help rebuild the organization's reputation in an internal email.
She said the U.S. wing of the Save the Children (SCUS) did not expect any outrage over the award as Blair is widely respected for his charity and international aid outside the U.K.
Whitbread wrote: "In our current structure, members make their own decisions about their marketing and fundraising as long as these are in line with our brand and other agreed guidelines.
"If there is a sensitive question then they consult, and this does increasingly happen. In this case, SCUS simply did not anticipate anything sensitive -- in the USA Tony Blair is widely seen very positively for his contribution to international aid."
She added: "Carolyn [Miles, chief executive of SCUS] asked Justin [Forsyth] to deliver the invite and he did so because he wanted to be helpful to Carolyn.
"I first heard about this when it became public and was immediately in touch with Justin and Carolyn, who agreed with me that there should have been a better process of consultation and risk assessment and that we must learn from this."
Whitbread said it is important all members of staff "contain the situation and stop things escalating further" in order to "rebuild the trust and commitment to our shared values".
"While I can't pretend I'm not very concerned about this situation, I'm confident that we can pull together to come out of it in a better place," she said.
"Let's use this experience, painful as it is, to inform our next strategy."
This article is copyrighted by IBTimes.co.uk, the
business news
leader