Scared By Russia, Finland, Sweden And NATO Members Prepare For Potential Military Crisis, Hold Air Force Drill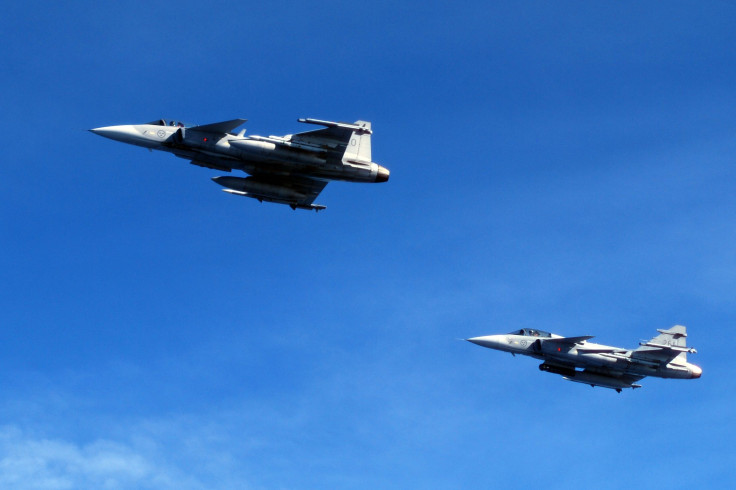 Finland is joining military exercises with other Scandinavian countries, as well as several members of NATO, in late May, Finnish media report. The maneuvers called Arctic Challenge will span 12 days, starting May 25, and include nine countries and close to 100 planes. The drills, over Sweden and northern Norway, come amid increased tensions between Russia and its Baltic and Nordic neighbors.
Sweden and Switzerland, which like Finland are not members of NATO, are expected to join the exercise, along with NATO members Norway, the Netherlands, Britain, France, Germany and the United States. Finland plans to send 16 F-18 Hornet fighter jets, while the other countries will supply Gripen "multirole" fighters, F-16s, Eurofighters and Jet Falcons, as well as transports and tankers, Russian news agency Sputnik reported. The Norwegian armed forces said the purpose of the Arctic Challenge exercise is to "learn to coordinate efforts in complicated flight operations conducted in cooperation with NATO."
Russia has ramped up military activity along its borders with northern Europe, causing consternation in several Baltic and Nordic countries and pre-emptive actions to head off -- or prepare for -- a possible military crisis. Latvia, which reported a Russian submarine near its coast in mid-March, is beefing up security on its eastern border, while Finland recently began a letter campaign notifying some 900,000 reservists of their duties in a potential crisis. Sweden also intercepted four Russian planes flying over the Baltic Sea in March with their radios off. Russian jets have been intercepted in other instances while flying in European international airspace.
Sweden, Finland, Norway, Denmark and Iceland pledged in April to increase cooperation on regional defense issues, Reuters reported. Their defense ministers issued a statement that northern European countries had to prepare themselves in light of increased military activity by Russia. "Russia's leaders have shown that they are prepared to make practical and effective use of military means in order to reach their political goals, even when this involves violating principles of international law," they said. "The Russian military is challenging us along our borders, and there have been several border infringements in the Baltics."
© Copyright IBTimes 2023. All rights reserved.