Scientific American Blog Editor Accused Of Sexual Harassment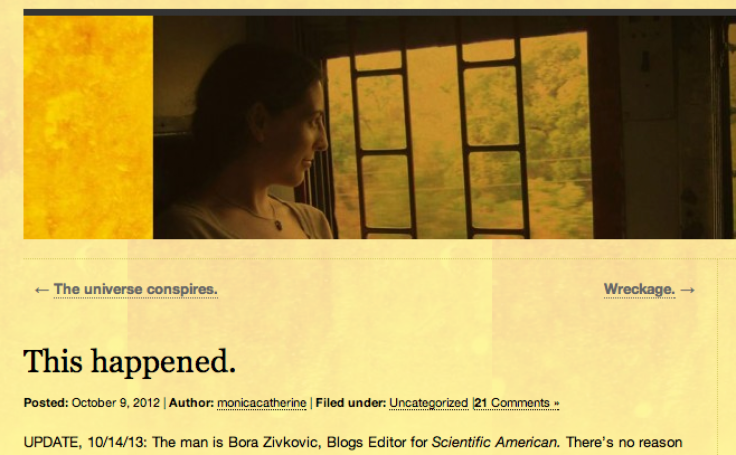 The recent controversy over Scientific American's decision to temporarily remove a black scientist's account of harassment has kicked up another unexpected story: a tale of sexual harassment within its ranks.
In an October 2012 post on her blog, playwright and science writer Monica Byrne described a profoundly uncomfortable meeting with a prominent editor. While ostensibly meeting for business over coffee, the editor steered the conversation to sexual topics and told Byrne "in an awful lot of detail" about a near-affair he'd had with a younger woman. On Monday night, Byrne -- motivated in part by the controversy surrounding biologist Danielle Lee's account of a nasty email exchange getting pulled, then reinstated by Scientific American -- updated her account, naming Scientific American blogs editor Bora Zivkovic as the man in question.
"This is far from the first time I've been on the receiving end of sexual harassment from an older man in a position of power, and in my experience, offenders are often serial offenders," Byrne wrote. "Recently there've been blowups in the spec lit community, the atheist community, and now the theatre community over behavior like this. In many cases, it seems clear that the harasser in question is a known serial harasser, long tolerated by his community because of his status or reputation."
Zivkovic does not dispute Byrne's account of the incident.
"I am very ashamed of this incident which happened more than a year ago," Zivkovic wrote on his website Tuesday. "Staff at Scientific American spoke to me and Ms. Byrne about our interaction at that time. I asked that my sincere apologies be conveyed to Ms. Byrne for the distress she suffered as a result of my inappropriate remarks and emails to her, and I also expressed my deep regret to the company about acting unprofessionally."
Some in the scientific community were uncomfortable with Byrne's decision to name her harasser. Andrew Maynard, chairman of the environmental health sciences department at the University of Michigan, wrote to Byrne protesting her decision:
"Naming Bora has a reasonable likelihood of destroying his marriage, his friendships and his professional standing in this case," Maynard said in an email to Byrne that he posted on his website. "You may feel that this is justified. But I can't help wondering where the bar lies for wielding a private exchange (which admittedly led to serious distress) to causing serious and widespread damage… [Zivkovic] has been a major factor in the rise of informal science writing and web-based science communication in the U.S. and beyond. And… he is highly respected within his community. Whether these are adequate justifications for not calling him out by name I leave with you."
But Byrne did not find this reasoning particularly convincing:
And many other science writers jumped to support her:
© Copyright IBTimes 2023. All rights reserved.
FOLLOW MORE IBT NEWS ON THE BELOW CHANNELS