Scientific American Controversy: Publication Removes Black Scientist's Blog Post Calling Out 'Partner' Site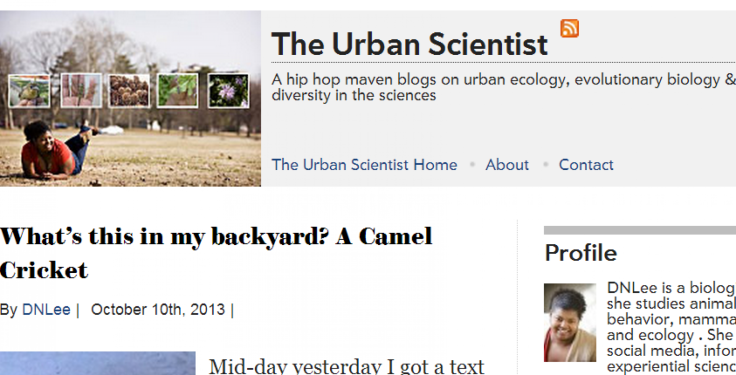 Scientific American is in hot water after abruptly removing a post by one of its bloggers that describes a vicious insult from an editor at a biology website once listed as part of the scientific publication's partner network. And while Scientific American's editor-in-chief initially said the post (written by a black woman) was removed for lack of focus on science, other writers have pointed out that this standard doesn't seem to apply to the publication's white writers.
[Update 10/14/2013 5:19 pm: Scientific American has just restored the post, with an editor's note appended.]
Biologist Danielle N. Lee writes about ecology, evolution and diversity in science at her Scientific American-hosted blog, The Urban Scientist. This past Friday, Lee posted an email exchange she had with "Ofek," who said he was a blog editor for the site Biology-Online.org. "Ofek" offered Lee a chance to write articles for the site for no compensation, and she declined.
In response, "Ofek" asked Lee: "Are you an urban scientist or an urban whore?"

The post (mirrored at the website "Isis The Scientist" and elsewhere) sparked outrage in the scientific blogging community. But later on Friday, Lee's post vanished with little explanation. Scientific American editor-in-chief Mariette DiChristina made a brief initial attempt at explaining why the piece was taken down in a tweet on Saturday:
In a blog post on Sunday, DiChristina elaborated further, saying that Lee's post had to be removed for legal reasons, because they couldn't "quickly verify" the facts of her situation. DiChristina said she also regretted that she couldn't communicate the decision to pull the post to Lee before it was taken down, blaming weekend family commitments and a phone drained of battery. The post doesn't contain an apology to Lee.
Also, "we would like to make clear that Biology-Online is neither a part of Scientific American, nor a 'content partner,'" DiChristina wrote on Sunday. "We are investigating what links we currently have with Biology-Online."
Until recently, Biology Online was featured on a list of sites that are part of the "Scientific American Partner Network." In a screenshot taken from the list on Oct. 4, courtesy of the Internet Archive's Wayback Machine, Biology Online appears:
But in the most recent version of the page, the site is no longer listed: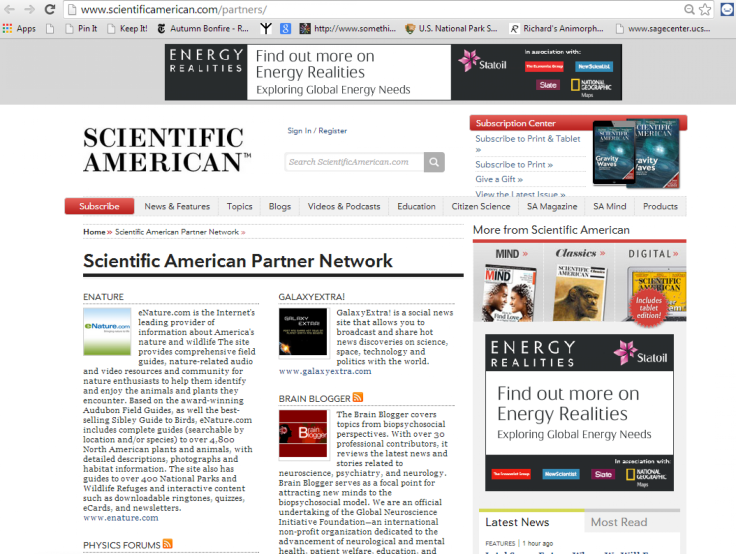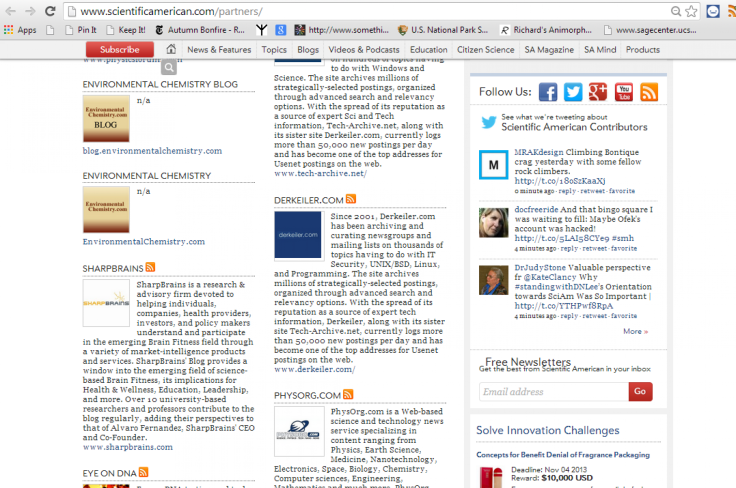 It's still unclear exactly what's the relationship between Biology Online and Scientific American (controlled by the Nature Publishing Group, which publishes Nature and other academic journals) and whether or not there are any monetary links between the two companies.
[Update 10/14/2013 4:57 pm: Alice Henchley, a spokesperson for the Nature Publishing Group, elaborates on Biology Online's relationship to Scientific American:
"'Partner Network' refers to an advertising relationship with a third party," Henchley wrote in an email. "We are still investigating the exact terms of this arrangement as it is no longer active and no one at the company has dealt with it for some time. We are also investigating any other connections we might have with Biology Online... (for example, limited solely to combined advertising traffic), [but are] hampered by a public holiday which is making it difficult to contact the relevant people in the organization. The fact that we need to do this is in itself an indication that this relationship is particularly limited."
It wasn't until this weekend that Scientific American became aware that Biology Online was still listed as a member of the partner network, and the site was removed from the list on Sunday.
The relationship "was historical rather than current" and should have been removed some time ago, Henchley says.]
On Monday, Biology Online administrators said that "Ofek" was a recently hired employee, and was immediately terminated after his exchange with Lee.
Meanwhile, scientists and science writers, including Scientific American's other bloggers, are pushing back on blogs and social media against the publication's decision to pull Lee's post. Several writers took issue with DiChristina's assertion that Lee's post was out of line with the Scientific American's mission of discovering science.
"I'd argue that 'discovering science' in any meaningful way requires discovering that scientific knowledge is the result of human labor," wrote Janet Stemwedel, a philosophy professor at San Jose State University, who blogs for Scientific American on ethics.
"Scientific knowledge doesn't wash up on a beach, fully formed. Embodied, quirky human beings build it," Stemwedel wrote. "The experiences of those human beings as they interact with the world and with each other are a tremendously important part of where scientific knowledge comes from."
Scientific American blogger and anthropologist Kate Clancy highlighted the publication's difference in treating herself, a white woman, and Lee, a black woman. Clancy even compiled a list of five of her own posts that aren't about "discovering science," which weren't pulled as inappropriate.
"I almost never write about discovering science, and in fact write frequently about oppression and privilege," Clancy wrote on Saturday. "But when a black woman writes about an oppressive experience, it is grounds for removal."
Lee, meanwhile, thanked her supporters over the weekend, and approached the controversy diplomatically:
© Copyright IBTimes 2023. All rights reserved.
FOLLOW MORE IBT NEWS ON THE BELOW CHANNELS