Seahawks' Russell Willson Signs $140 Million Extension, Becomes Top-Earning NFL Player
The Seattle Seahawks have reached an agreement with starting quarterback Russell Wilson over a four-year contract extension that will see him remain with the team through the 2023 season. The signal caller was entering the final year of his current deal, which was signed in 2015 and that would have seen him become a free agent after the upcoming campaign.
Earlier in the week, there was heavy speculation about Wilson potentially leaving the Seahawks, with multiple reports stating he wanted to play elsewhere. Kansas City chiefs' safety Tyrann Mathieu even claimed that the Seahwaks quarterback wanted to move to New York.
But Wilson put an end to all the speculation by agreeing a four-year contract extension, and stated his commitment to the franchise via a video Tuesday morning. The quarterback revealed he had no desire to leave the franchise and that since his arrival as a third round pick in 2012, he knew he wanted to spend his entire career in Seattle.
"Hey Seattle, we got a deal," Wilson said in the video posted on his official Twitter account. "For me, for my family and for (agent) Mark (Rodgers), we love Seattle, and it's the place I want to be."
"I've always wanted to be here. When I first got drafted in 2012, I wanted to be here forever. This helps solidify that. I've got many more years to go and a lot more winning to do — we've got more Super Bowls to win. I'm excited about that," he added via a statement from Seahawks' official site.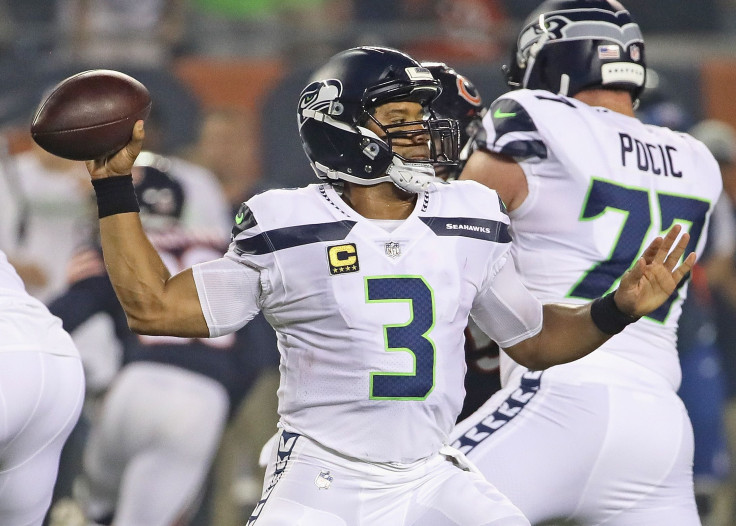 The 30-year-old is the winningest quarterback in Seahawks history, after having taken them to never before reached heights. Wilson led them to the Super Bowl title — the team's first — in 2013 and seven straight winning seasons, of which six saw them win over 10 games on the way to the post-season playoffs.
Meanwhile, the New York Times reported that Wilson, with his four-year extension that is reportedly worth $140 million, becomes the NFL's highest-paid player. The quarterback's contract includes a $65 million signing bonus, a no-trade clause and $107 million in guaranteed money.
Wilson's yearly average salary of $35 million trumped Aaron Rodgers' $33.5 million salary that he receives after signing his four-year extension with the Green Bay Packers in 2018. The quarterback's agent Mark Rodgers also confirmed his client's intention was always to remain with the Seahawks and bring more championships to the city.
"Russell's goal and his hope was that he would continue his career with the Seahawks and continue to bring championships to this town," Rodgers said. "He believes there is still unfinished business, and he is looking forward to pursuing that without having to worry about contracts and his future."
© Copyright IBTimes 2023. All rights reserved.