Security In Asia And Europe 'Quite Divisible,' Expert Says Citing Paris On NATO's Tokyo Office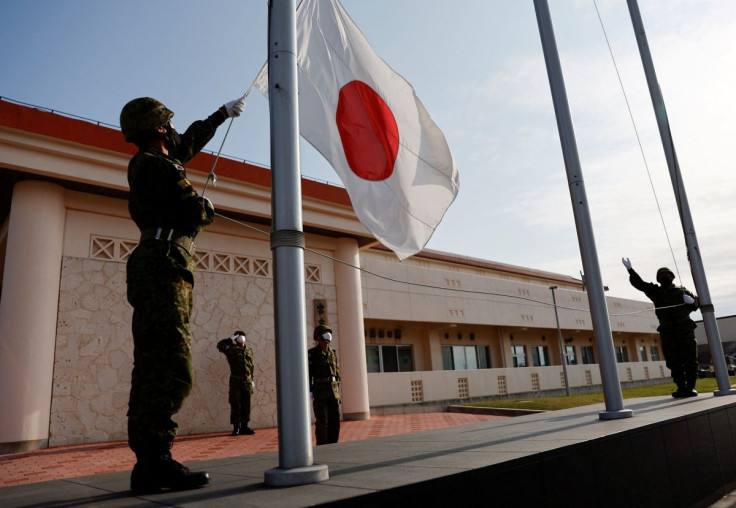 KEY POINTS
The expert said blocking a NATO office in Japan 'is a means to making a favorable impression on Beijing'
Macron last week informed NATO's chief about his opposition to a Japan office
China's defense minister has warned against establishing NATO-like alliances in the region
Intensifying geopolitical tensions in the Asia-Pacific are driving Japan to search for stronger defense alliances outside its home turf. But talk of a NATO liaison office in Tokyo has already been met with opposition from a key member of the Western defense alliance, indicating the limits of any defense cooperation that Japan, or any other Asian country, can have with the group, an expert said.
Late last week, French President Emmanuel Macron informed NATO chief Jens Stoltenberg that his country was opposed to the idea of the alliance opening a liaison office in Tokyo. NATO officials have been talking about opening such an office for some time. The talk stems from a belief among NATO allies, as articulated by Stoltenberg recently, that "what is happening in Europe today could happen in Asia tomorrow."
The NATO chief was referring to China's aggressive military behavior over Taiwan, a self-ruling island that Beijing claims as its own, and over the many disputes it has with other countries over maritime claims in the South China Sea.
The alliance updated its strategic concept last year to say China's "malicious hybrid and cyber operations and its confrontational rhetoric and disinformation" harm NATO member states. The idea that the security of Asia and Europe is indivisible stems from this expansive viewpoint.
But an official at Macron's office said NATO should limit itself to its geographical reach. "We are not in favor as a matter of principle. As far as the office is concerned, the Japanese authorities themselves have told us that they are not extremely attached to it," the official told reporters.
Early opposition to a NATO office in Japan thwarts the idea that security in Europe and Asia is indivisible, a notion that "crystallized" when Russia invaded Ukraine in February last year, Patrick M. Cronin, chair for Asia-Pacific Security at the Washington, D.C.-based think tank Hudson Institute, told International Business Times.
"The French resistance to a NATO liaison office in Japan has shown that security in the two regions remains quite divisible," Cronin said in emailed comments. He added that the actual effect of a NATO office in Tokyo will only be determined if such a facility produces "tangible military cooperation."
Early last month, China's Defense Minister Li Shangfu warned against establishing "NATO-like [alliances] in the Asia-Pacific" region. He said such alliances would "plunge the Asia-Pacific into a whirlpool of disputes."
Cronin said the establishment of a NATO office in Japan "is sure to trigger a Chinese and Russian fusillade aimed at NATO and Japan," considering how the two military superpowers remain steadfast in showing hostility toward Western-led alliances.
Cronin, who was a former senior director of the Institute for National Strategic Studies at the Department of Defense-funded National Defense University, said that blocking a NATO office in Japan "is a means to making a favorable impression on Beijing."
The alliance wrapped up a summit this week where member countries dashed Ukraine's hopes of securing a clear timeline for when it can join the alliance. Australia, Japan, New Zealand and South Korea, which have supported Ukraine with military aid and imposed sanctions on Russia, were invited to the NATO summit.
Unlike Ukraine, Japan won't be joining the alliance, as previously made clear by Prime Minister Fumio Kishida. But Kishida has also raised the prospect of Asian nations potentially experiencing the same fate as Ukraine as China steadily increases military, economic and diplomatic pressure on its neighbors.
Regardless of opposition to a liaison office in Tokyo, Japanese defense officials will continue pushing for closer cooperation with NATO, Cronin said. Japan covets capable defense partners that will allow it to become less dependent on the U.S. without compromising its relations with Washington, he added.
Other countries are surely taking note of how NATO deals with Japan's "modest request," Cronin said. "If NATO balks, then the other Indo-Pacific countries will know that defense cooperation between NATO and Asian partners has clear limits."
During a Wednesday press conference, Chinese foreign ministry spokesperson Wang Wenbin appeared to take a swipe at the alliance's plans for the region, saying that "NATO must not seek to sow chaos here in the Asia-Pacific."
Stoltenberg said Wednesday that plans for a Tokyo office were "still on the table," although the summit concluded without a decision.
© Copyright IBTimes 2023. All rights reserved.