Self-Driving Car Permit Goes Into Effect in California, Establishing Ground Rules For Autonomous Car Road Tests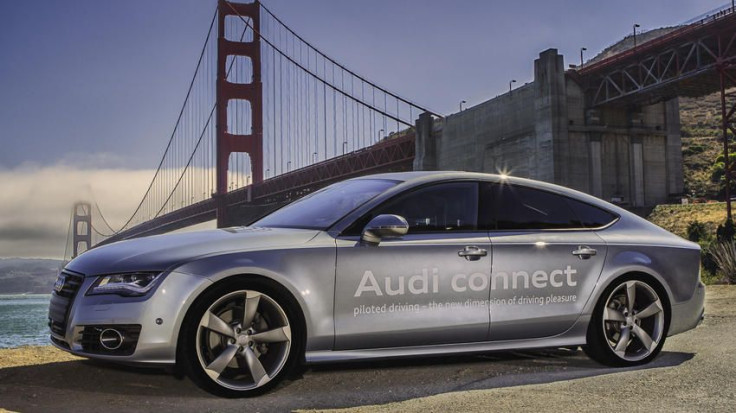 It was two years in the making, but California now has established guidelines that allow self-driving cars to be tested on its public roads. Since Gov. Jerry Brown signed a law in 2012 aimed at promoting California as a leader in autonomous driving research, three companies -- Google, Mercedes-Benz and Volkswagen --have been testing the technology in the state because there was no law prohibiting it. Now the rules are formal and settle ambiguities such as how to deal with liabilities and who is qualified to ride in a self-driving test car.
"Obtaining the first permit issued by the State of California shows that we intend to remain the leader in this vital technology frontier," Scott Keogh, president of Audi of America, the U.S. subsidiary of the German automaker owned by Volkswagen AG (FRA:VOW), in a statement announcing Audi's acquisition of the permit on Tuesday. Audi says it has a self-driving version of its A7 mid-sized luxury car in San Francisco ready for immediate deployment.
Under the new guidelines posted on the state's Department of Motor Vehicles website, companies that want to test self-driving motor vehicles must have a net worth of at least $5 million and post a $5 million bond or be self-insured for that amount against liability in the event of damages.
The person who rides in the car to ensure it operates safely will require special training and must be directly employed by the manufacturer — so no temps or outsourcing allowed. Vehicles will need to be tested in a simulated environment before qualifying and be able to operate like normal vehicles when the system is disengaged.
Three other states have similar rules in place: neighboring Nevada, Michigan (where the top three U.S. automakers are based) and Florida. Audi says it was the first to obtain self-driving permits in Nevada and Florida, where in July it demonstrated its self-driving technology on a Tampa-area expressway. California, however, is home to the largest fleet of self-driving cars, thanks to Google's base in the state. The search engine giant has taken an early lead in autonomous driving: It has 21 vehicles with its self-driving system, according to the Associated Press. Mercedes-Benz and Volkswagen have two vehicles each.
IHS Automotive, a Colorado-based global industry analytic firm, estimates that by 2025 there could be as many as 230,000 new autonomous vehicles hitting the world's roads annually, to nearly 12 million cars by 2035. Already the world's top automakers are introducing semi-autonomous crash avoidance, lane assist and self-driving in slow urban stop-and-go traffic. But the holy grail for these companies is full autonomy, when drivers simply program destination and the car does the rest. The technology already exists in rudimentary form.
© Copyright IBTimes 2023. All rights reserved.