Sen. Elizabeth Warren Takes Aim At SEC Head Mary Jo White Over "Extremely Disappointing" Tenure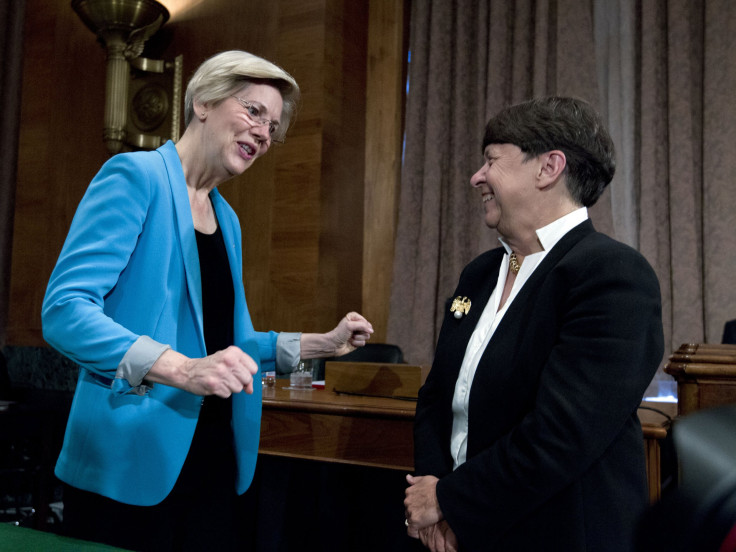 Sen. Elizabeth Warren, D-Mass., issued Tuesday a scathing critique of Securities and Exchange Commission Chair Mary Jo White's "extremely disappointing" tenure in office, just weeks after the two shared a closed-door meeting. The public flare-up shows an unusually sharp disagreement between the two women seen as leading Wall Street watchdogs.
"I am disappointed by the significant gap between the promises you made during and shortly after your confirmation and your performance as SEC chair," Warren wrote in a letter dated June 2. The senator criticized White's handling of issues ranging from campaign-finance rule-making to the granting of regulatory waivers to misbehaving banks, and demanded a list of documents.
The scuffle comes at a pivotal time for the SEC and wider Wall Street reform. White has been charged with implementing dozens of rules mandated by the 2010 Dodd-Frank Act, a landmark bill that Warren heavily influenced as a congressional adviser. When White came up for Senate confirmation in 2013, the newly elected Warren lent her support, citing White's reputation as a famously aggressive prosecutor.
The 13-page letter at times rang with personal hostility. Warren said she was "perplexed" that White provided her "misleading information" at the meeting regarding how long it would take for the SEC to lay out rules around the ratio of CEO compensation to average worker pay at publicly traded companies.
Those rules are now slated to be finalized (alongside virtually all other SEC rules) by April 2016. White has been dogged by criticism over the sluggish pace of SEC rule-writing, though some chalk up the delays to partisan gridlock in the agency.
White wasted no time responding, calling Warren's claims "mischaracterizations."
"I am very proud of the agency's achievements under my leadership, including our record year in enforcement," White said.
The SEC brought a record 755 enforcement actions against financial firms in 2014. But Warren charged that it has let too many banks off the hook by failing to secure admissions of guilt from wrongdoers, and furthermore by giving special waivers to keep banks from losing privileges after criminal convictions.
Another of Warren's gripes: White has let proposed campaign-finance disclosure rules slide off the table, perhaps indefinitely. Originally added to the SEC's agenda in 2013, the rules would force companies to disclose to shareholders their political spending. Under White's leadership, the SEC abandoned the proposed rules, which garnered more than 1 million public comments when they were first floated in 2011.
Warren also took aim at growing concerns over John White, the SEC chair's husband, whose employment at an elite law firm has hampered the SEC's ability to penalize banks. White has had to recuse herself from around 50 enforcement actions due to her husband's conflicts of interest with various financial firms, according to the New York Times.
"I am disappointed that you have not been the strong leader that many hoped for -- and that you promised to be," Warren wrote. "I hope that you will step up to the job for which you have been confirmed."
© Copyright IBTimes 2023. All rights reserved.