Seoul mayor Oh Se-hoon sets sight high on city's future
IB Times Interview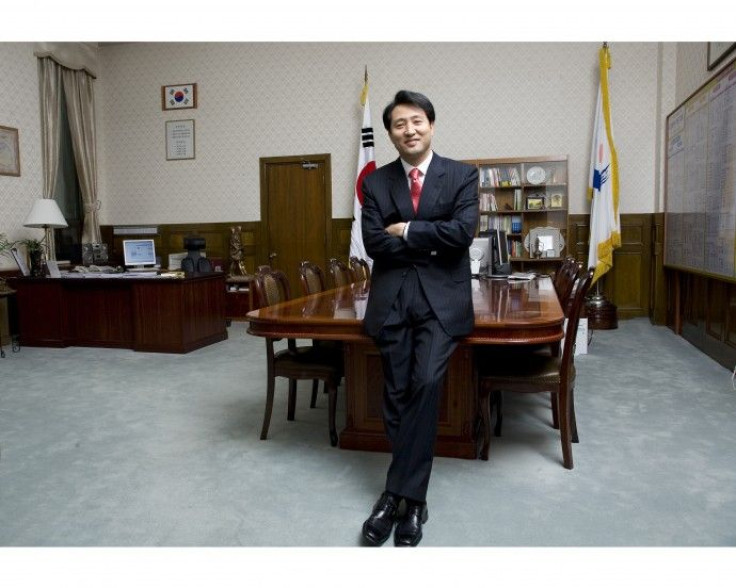 On the sidelines of the G-20 Summit in Seoul, city mayor Oh Se-hoon, was seen everywhere from overseeing the arrangements to briefing journalists about the city's future. His dynamic style of interacting directly with the participants at the G20 in Seoul's Coex building leaves behind an impressive image about him and the city. There are many initiatives that the mayor has started in the city and IB Times tried to catch up with them in an interview with him.
Here are some excerpts from the interview given to Nagesh Narayana of IB Times in Seoul:
IBTimes: There is a move to shift some ministries to the Sejong city, 100 miles south of Seoul soon. Since Seoul represents 45 percent of South Korea's population, how does this move affect the city and its residents?
Oh Se-hoon: Regarding the social and economic impact the relocation of government offices to Sejong –si (City) may have on Seoul, various analyses and forecasts say it will, in fact, not be that great. The plan does not entail a major decrease in the residing population or relocation of industrial resources. Thus, the impact will not be huge and, accordingly, there will be lesser effect on the regional economy. It will only have a symbolic meaning and may include side-effects such as long distance commute and, ministers and officials having to frequently travel to Seoul.
IBTimes: Your move to engage ordinary citizens for ideas on improving metropolitan government received well over 100,000 suggestions and already 191 of them have been implemented. Do you have any more ideas to share with us?
Oh Se-hoon: In 2006, we launched our website 'Cheonman Sangsang Oasis' or 'Oasis in the imagination of 10 million people', and so far, we have received creative ideas from about 120,000 citizens. The system is an open channel for people to participate in socio-economic issues and to propose ideas that may be implemented in our policy making. Cheonman Sangsang Oasis works as a new framework of public participation as it is not a one-way route that merely provides answers to suggestions but a two-way communication system between the people and the government officials.
Since the launch of Cheonman Sangsang Oasis, 191 suggestions that were made by the public have materialized in our policy making, and the site has been acknowledged as having successfully promoted public participation in policy making in an innovative way. For this, Seoul received the United Nations Public Service Awards and plan to further develop through their recognition and support.
Until now our website has been promoted through the US College of Administration Masters/PhD on-site program, as well as the OECD homepage, and we plan to actively introduce the system in other countries.
IBTimes: There is a criticism that Gangnam is more developed than Gangbuk in Seoul. How do you plan to address this issue?
Oh Se-hoon: Up to 1970, Seoul developed around Gangbuk, the northern area of the Hangang (River), and in the 70s entered its height of growth pushing forward policies for new city development in the southern area Gangnam. As a result, urban facilities and various lifestyle services became highly concentrated in Gangnam creating a gap between the north and south in terms of income, education and infrastructure, etc.
Since the 2006 elections, Seoul was set forth to reconstruct the Gangbuk area in order to bring about a balance between north and south, and efforts are being made to change the old, economically depressed infrastructure to an attractive city of positive energy and activity.
This reconstruction business was aimed to build Gangbuk as a multi-cultural area that includes culture, history, business, etc., with the east, west, north, and south of Cheonggyecheon (stream) as the four main pillars of development. This consists of history, tourism, green zones and multi-culture.
Furthermore, we also started the 'New Town Business' in order to reduce the gap between the north and south through improvement of housing and living conditions in Gangbuk. 35 New Towns, revolving around Gangbuk, have been designated for the addition of lifestyle facilities such as parks and roads, and these areas are changing from outdated regions to pleasant environments for living through reconstructions and development.
Through continued efforts for improvement, the New Town Business has led to diversification in housing, creation of environmentally-friendly living compounds, and public-oriented management policies, while 'Industry New Towns' have been designated to bring Gangnam and Gangbuk closer through supporting companies and job creation.
IBTimes: What are your future plans for an already advanced metropolitan city like Seoul?
Oh Se-hoon: Our plan for a global Seoul is to develop a unique force of attraction that will stir the interest of people around the world and make Seoul a city that many want to live in, have fun in, and invest in. To achieve this, 'Seoul, where people are happy; Seoul, loved by the world' was proposed as our new objective in addition to the 'Clean and attractive global city, Seoul' that had been already proposed in the elections.
Because we feel the making of a happy city should start from the people living here, efforts are being made to resolve the five key concerns: education, childcare, employment, retirement and housing, through a tightly-knit leak-free policy, 'Seoul Welfare Net'.
Next, in order to attract people from around the globe, a strong image associated with Seoul is required. This implies enrichment of the cultural and environmental resources unique to Seoul and bringing them up to global standards.
We have plans to create an environment, where anyone can enjoy their free time nearer home, by improving the air quality that will be on par with that of Jeju Island; expanding the parks, greenery and lake-side areas to match and exceed the standards set by cities such as New York and London. Also, through art galleries and the Design Seoul Street projects, the image of a city that was once 'grey' is being transformed to one that is 'people-focused', pleasant, safe and convenient to live in. In particular, plans are afoot to build enjoyable tourist sites using the natural environment, such as Namsan (Mountain), the Hangang (River) and 600 years' worth of Seoul's historical and cultural resources.
Additionally, amidst global competition, Seoul should pro-actively propose solutions to common issues, such as low birth rate, an aging society, climate change, etc., while striving for a brighter future in the next 10 to 100 years' time.
For this, new industries such as tourism, design, digital content, convention, R&D and finance should be actively promoted and developed across different regions in a balanced way so as to form a global economic hub that includes the Gyeonggi-do region as well as the city of Incheon.
We also wish to play a leading role in change for the future by investing in green growth industries, such as new energy development. Through these efforts, Seoul shall become a city of warmth, happiness, balance and vigor while contributing to the development of the global society as a whole.
© Copyright IBTimes 2023. All rights reserved.
FOLLOW MORE IBT NEWS ON THE BELOW CHANNELS