Serbian Prosecutors Arrest 7 People, Suspected Of Organizing Srebrenica Massacre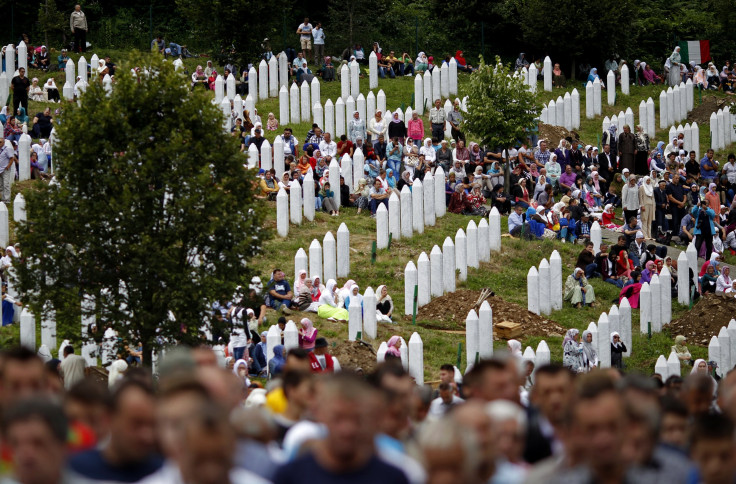 Serbian prosecutors on Wednesday detained seven people, suspected of orchestrating the Srebrenica massacre during the Bosnian War in 1995, when over 8,000 Bosnian Muslims were killed. The arrested men are accused of participating in the slaughter of over 1,000 Bosnian Muslims in a warehouse near Srebrenica, according to the Associated Press (AP).
Prosecutors reportedly said that they are searching for more suspects in connection with the incident, which is the only atrocity in Europe to be labeled as genocide by the United Nations after World War II. The latest arrests reportedly mark the first time Serbia has tried to bring to justice the men linked to the massacre. The country has previously detained people, but they were not directly involved in the killings, the BBC reported.
"It is important to stress that this is the first time that our prosecutor's office is dealing with the mass killings of civilians and war prisoners in Srebrenica," Bruno Vekaric, the lead prosecutor in the case, told AP. "We have never dealt with a crime of such proportions. ... It is very important for Serbia to take a clear position toward Srebrenica through a court process," he added.
In 2011, Serbian officials had arrested Ratko Mladic, accused of being the mastermind behind the massacre, and had sent him to an international criminal court in The Hague, Netherlands.
Nedeljko Milidragovic, a commander known as "Nedjo the Butcher" who became a successful businessman, was also reportedly among the men arrested on Wednesday. The arrests follow the December move by the same team of prosecutors from Serbia and Bosnia, who arrested 15 suspects for a separate 1993 atrocity, when 19 men were abducted from a Bosnian train and later killed.
In July 1995, Bosnian Serb forces began the Srebrenica offensive with heavy shelling, ignoring the Dutch U.N. peacekeeping troops who were in the town. The men and boys, captured by Nedjo's team, were held in a warehouse and later killed. The survivors were told to come out and were promised that they would not be hurt. However, they were not spared, AP reported.
Milidragovic later moved to Belgrade after the war, had two children and ran a successful business of transporting construction material. He reportedly got his startup capital from the thousands of dollar he amassed from the victims' pockets.
© Copyright IBTimes 2023. All rights reserved.