Series Of Car Bombs Hits Baghdad, Killing More Than 90 People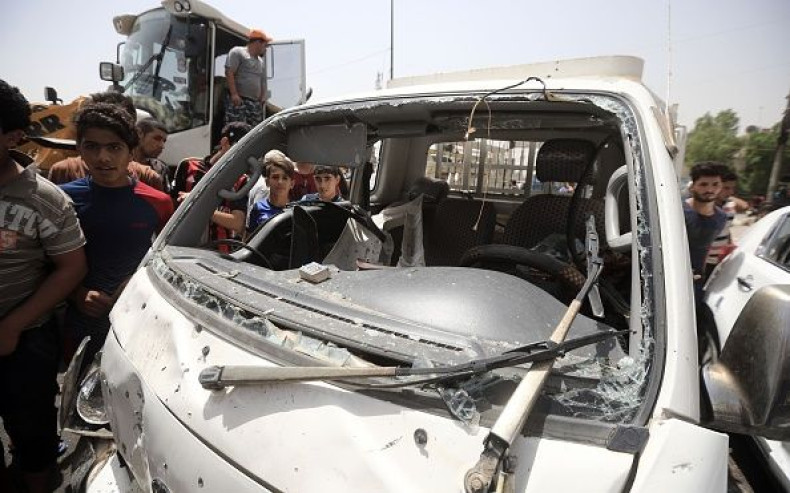 More than 90 people were killed in a series of car bombings in Baghdad on Wednesday. The Islamic State group claimed responsibility for all three attacks. The bombings mark the deadliest day in the country since the beginning of the year as the military continues to battle the terrorist organization, also known as ISIS, in the northern and western regions.
Early Wednesday a suicide car bomb detonated in an outdoor market in Sadr City and killed at least 63 people. Later in the day, two more bombings killed at least 30 people. One targeted a police station in Baghdad's northwest Kadhimiyah neighborhood, killing 18 people, including five police officers. The attack wounded 34. In northern Baghdad, a suicide car bomb in the neighborhood of Jamiya killed seven and wounded 22, according to the Associated Press.
The car bomb attacks come as the Iraqi forces and U.S. advisers work to defeat ISIS in Fallujah, a city west of Baghdad in Anbar province. That battle has stalled for several months as Iraqi security forces have tried to avoid killing civilians. The government forces have also focused their efforts on crushing ISIS in Makhmur, a town just south of Mosul that connects to some of the group's last oil fields in Al-Qayyarah. Iraqi forces took control of Makhmur on Tuesday, though some militants remain inside the city.
The violence in Baghdad follows weeks of turmoil in Parliament. The central government has been teetering on the edge of collapse since Prime Minister Haider al-Abadi tried to stem corruption with a drastic overhaul of his Cabinet. Some members of Parliament protested his efforts to appoint new leaders and called for his ouster, while others pressured him to press forward with reform. Supporters of Shiite cleric Muqtada al-Sadr, demanding a more swift reform movement, stormed the Parliament building this month, forcing officials to evacuate. Abadi's new Cabinet has yet to be appointed by Parliament members.
© Copyright IBTimes 2022. All rights reserved.