Services data stir euro recession worry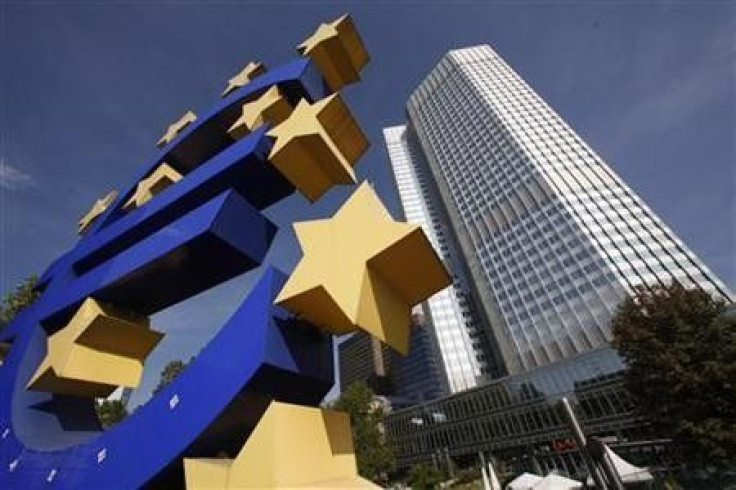 The euro zone's services sector shrank for the first time in two years in September as new orders dried up, stoking fears that the region's economy could be heading back into recession.
Meanwhile U.S. data on Wednesday confirmed the economy was narrowly avoiding another recession and globally growth in both the manufacturing and services sector accelerated slightly last month according to JPMorgan's Global All-Industry Output index.
The implied pace of increase is still very slow, however, as growth at manufacturers has ground to a halt and conditions in the service sector remain weaker than expected, said David Hensley at JPMorgan.
The euro zone was the main concern for policymakers and investors though. A downturn that began in smaller countries in the 17-nation bloc has now engulfed the region.
Survey compiler Markit said the latest figures suggest the euro zone's economy will contract in the fourth quarter this year unless business and consumer confidence rallies.
We can't rule out the possibility of recession in the coming quarters. Combined with the global slowdown you have the main growth engine of the euro zone economy, Germany, stuttering, said Jeavon Lolay, head of global research at Lloyds Banking Group.
A flailing euro area could drag the weakly expanding U.S. economy down as well. Goldman Sachs economists estimate a euro-area recession would dent U.S. growth by more than a percentage point.
EURO ZONE CONTRACTS
Markit's Eurozone Services Purchasing Managers' Index (PMI) fell to 48.8 last month from 51.5 in August, its lowest reading since July 2009 and below an earlier flash reading of 49.1.
It is the first month the index has been below the 50 mark that divides growth from contraction since August 2009.
The composite PMI for the eurozone -- combining the services and manufacturing data published earlier this week and a good guide for economic growth -- fell to 49.1 from 50.7 in August, its lowest level since July 2009 and down from a flash estimate of 49.2.
Economists polled by Reuters last month predicted third- and fourth-quarter growth of 0.2 percent, but Markit said the result could be even weaker.
Markit's chief economist Chris Williamson said the data suggest the euro area economy will have stagnated in the third quarter. The steep drop in new business suggests growth will contract in the fourth quarter unless business and consumer confidence rally.
Despite the weak data, ailing world stock markets bounced on Wednesday after Europe's finance ministers agreed to shore up euro zone banks against the spreading debt crisis, though contagion fears kept the euro close to a nine-month low against the U.S. dollar.
GERMANY STUTTERS, BRITAIN BITTEN
Earlier data from Germany, Europe's largest economy and the backbone of the euro zone's now-stalled recovery, showed activity close to stagnation, while in France the rate of growth slowed to a 26-month low.
Italy's service sector contracted for the fourth month and at a faster pace than expected, while Spain's shrank for the third straight month.
But the tough conditions meant companies cut prices charged for the first time in over a year, which may moderate some fears at the European Central Bank about above-target inflation.
The ECB has raised its key lending rate twice since April, taking the refinancing rate to 1.5 percent, in an effort to control inflation that according to flash data was at 3.0 percent in September -- above the central bank's 2.0 percent target ceiling.
Mounting evidence of a weakening euro area economy prompted some economists to predict an interest rate cut Thursday from the ECB, although most expect it to wait until the new year before easing policy.
Britain's service sector unexpectedly picked up pace in September, though firms' expectations for the next 12 months are bleak, and Britain's economic growth in the second quarter of this year was unexpectedly revised down to 0.1 percent, official data showed Wednesday.
It is pretty anemic growth. What is happening in Europe is not helping the UK at all, but even fundamentally the UK economy is in a pretty weak spot at the moment, said Marchel Alexandrovich at Jefferies International.
U.S. RECOVERY SLUGGISH
U.S. economic data underscored the tepid pace of recovery.
Service sector activity growth slowed in the United States in September as a contraction in employment outweighed a jump in new orders.
The Institute for Supply Management's non-manufacturing index fell to 53.0 for the month from 53.3 in August. A reading above 50 indicates expansion in the sector.
This is more evidence that the soft patch in growth continued into September, said Steven Wood, chief economist for Insight Economics in Danville, California.
The U.S. private sector added jobs at a modest pace in September, a separate report said, suggesting an economy continuing to tread water. A more authoritative government report on the employment situation is due Friday.
U.S. private-sector employers added 91,000 jobs in September, above economists' expectations, a report by payrolls processor ADP showed on Wednesday.
Economists surveyed by Reuters had forecast the ADP National Employment Report would show a gain of 75,000 jobs.
The ADP profile for the last two months is one of moderate job gains and not something more dire, said Jonathan Basile, an economist for Credit Suisse in New York.
© Copyright Thomson Reuters 2023. All rights reserved.