Several Dolphins Die After Mass Stranding On Japanese Coast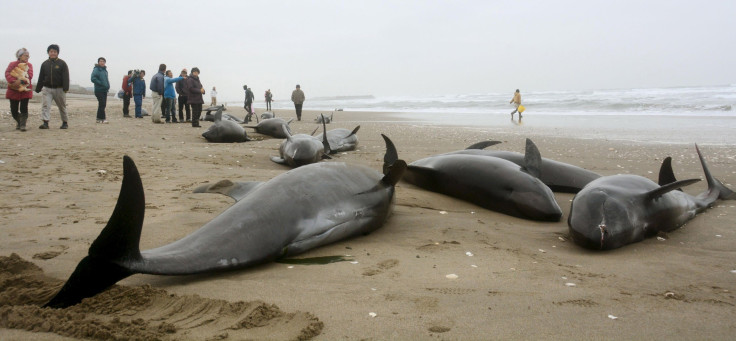 Rescue workers are struggling to save over 130 dolphins that washed ashore on a beach in Japan early Friday, according to local media reports. The beached mammals have been identified as melon-headed whales, also known as electra dolphins, which are deep water dwellers found throughout the world's tropical waters.
"We see one or two whales washing ashore a year, but this may be the first time to find over 100 of them on a beach," a coast guard official told Agence France-Presse (AFP). In 2011, about 50 electra dolphins, which can grow up to nine feet in length, had washed ashore on a beach in the same prefecture.
Local personnel, including firefighters, members of the Japanese coast guard and police officers at the beach in eastern Ibaraki prefecture poured water on the stranded dolphins to prevent their skin from drying out. However, several of the creatures have already died while others have been badly injured, AFP reported.
Although rescue workers tried to carry a few of the dolphins back to the ocean on slings, waves are pushing most of them back to the beach, according to media reports. "Dolphins are heavy. They're sometimes pushed back to the beach by waves even after we carried them into the water," a local volunteer reportedly said.
Tadasu Yamadao, a researcher at the National Museum of Nature and Science, Tokyo, reportedly said that the dolphins might have got lost. "Sonar waves the dolphins emit might have been absorbed in the shoals, which could cause them to lose their sense of direction," he said.
Although the exact cause of dolphin strandings is not yet known, scientists had earlier suggested that low- and mid-frequency sonar used by military ships might be interfering with the mammals' echo-location system, disorienting them and hindering their ability to navigate.
© Copyright IBTimes 2022. All rights reserved.
FOLLOW MORE IBT NEWS ON THE BELOW CHANNELS