SF BART Strike 2013: Transit Agency Announces Strike, Commuters Asked To 'Consider Alternative Transportation' [CORRECTION]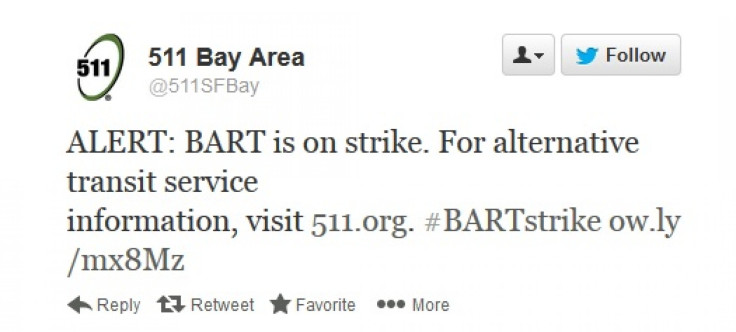 A previous version of this story had a misspelling in the headline.
San Francisco's Bay Area Rapid Transit (BART) announced Monday morning that two of its unions are officially on strike. The transit system released a statement via its website informing commuters that as of July 1, "riders and drivers need to plan ahead for their commutes" and "consider alternative transportation."
The BART strike comes after contract talks with its two biggest unions apparently stalled as a midnight deadline expired on Sunday. Representatives for Amalgamated Transit Union Local 1555 and Service Employees International Union Local 1021 said the unions told management they had until midnight, when the unions' contracts are set to expire, to offer a new proposal for them to consider.
"If there are no new proposals by midnight, then workers will walk off the job as soon as the trains are safely put to bed," Josie Mooney, a negotiator for the SEIU, told the Associated Press.
While both sides made an 11th-hour attempt to resume talks Sunday afternoon, reports indicate that they were far apart on key issues including salary, pensions, health care and safety.
The two unions, which represent nearly 2,400 train operators, station agents, mechanics, maintenance workers and professional staff, want a 5 percent raise each year over the next three years. BART said that train operators and station agents in the unions average about $71,000 in base salary and $11,000 in overtime annually. The workers also pay a flat $92 monthly fee for health insurance.
BART spokesman Rick Rice told the Associated Press that the transit agency's latest proposal offered a total 8 percent salary raise over the next four years, instead of its original offer of 4 percent over the same period. The proposed salary increase is on top of a 1 percent raise employees were scheduled to receive Monday, Rice added.
The transit agency also said it offered to reduce the contribution employees would have to make to their pensions and lower the costs of health care premiums they would have to pay.
"We need to have some substantial discussions," Rice said. "I hope we can make some progress."
Transportation officials say another 60,000 vehicles could be on the road now because of the strike, clogging highways and bridges throughout the Bay Area.
The transit agency handles more than 40 percent of commuters coming from the East Bay to San Francisco, with the Bay Bridge handling another 50 percent, John Goodwin, a spokesman for the Metropolitan Transportation Commission, told AP.
Goodwin suggests commuters consider carpooling, taking extra buses or ferries available and working from home if the trains stop. And, if commuters must drive to work, they should leave earlier or later than usual, he said.
© Copyright IBTimes 2023. All rights reserved.