Shareholders Spare Bank Of America Corp CEO And Chairman Brian Moynihan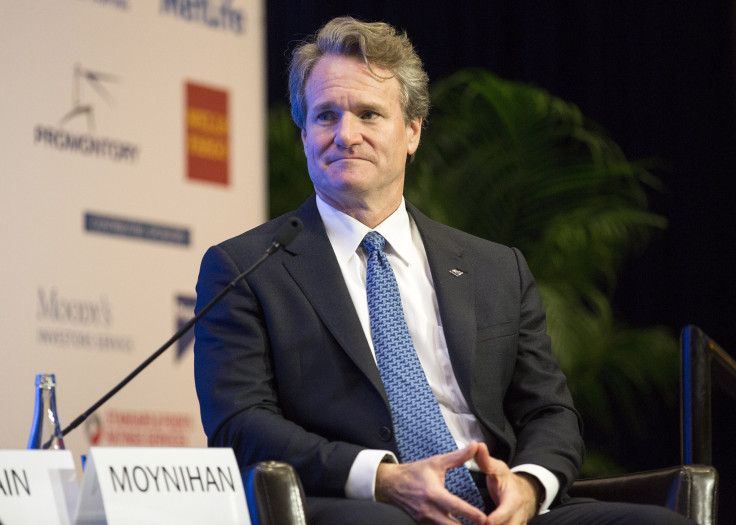 Bank of America chief executive Brian Moynihan has managed to retain his dual titles of chairman and CEO in a hotly contested shareholder vote. Preliminary results released Tuesday morning show 63 percent of shareholders siding with the bank in the divisive special referendum.
The nation's second-largest lender succumbed to shareholder pressure in recent months to hold a vote Tuesday over whether Moynihan should occupy the roles of both CEO and board chairman, an arrangement that has come under heavy criticism.
Major institutional investors, including California's huge public employee and teacher pension funds, opposed the bank's proposal to keep Moynihan in both positions. They were joined by influential proxy advisory firms including Institutional Shareholder Services, which has called its opposition to the bank's position "a corrective action for board overreach."
The pension funds and the bank each went to great lengths to recruit shareholders -- some owning as few as 500 shares -- to their respective sides. Bank of America had told shareholders it expected the vote to be close, according to a Wall Street Journal report.
Dissident shareholders argued that maintaining a separation of powers at the bank was paramount for ensuring accountability. A chairman of the board could focus primarily on shareholder concerns and outside stakeholders, while a separate CEO would manage the sprawling company under the supervision of the board.
The dispute originated in 2009, when embattled CEO Kenneth Lewis -- who helmed Bank of America through the financial crisis and controversial acquisition of Merrill Lynch -- was stripped by incensed shareholders of his chairman title.
In October 2014, the board moved to merge the two roles again, a move that many shareholders took as a snub of their 2009 vote. Following sustained shareholder protest, the bank agreed in August that the arrangement would face a special vote.
Some shareholders viewed the vote more as a referendum on the board's governance than on Moynihan's performance, calling for long-serving board members to step down.
Prominent bank analysts sided with the shareholder groups calling for a split. "It's physically impossible for one person to do both jobs," Christopher Whalen, senior managing director at Kroll Bond Rating Agency, told Bloomberg. "You need to separate the board role from the guy who runs the company."
Adding to shareholder discontent, Bank of America has significantly underperformed some of its rivals in the past half-decade. Since September 2010, BofA's share price has increased 17 percent. Competitor JPMorgan Chase & Co., meanwhile, has seen its stock rise nearly 57 percent.
The bank defends its October 2014 decision, asserting that circumstances have changed greatly since the post-crisis vote to split the roles. "The board believes that having the same flexibility on board leadership that 97 percent of the S&P 500 now have, while still providing strong independent oversight, is in the best interest of stockholders," the bank said in an August statement.
© Copyright IBTimes 2023. All rights reserved.