Shia Rebels Capture Amran In Yemen, Over 60 Killed And Thousands Displaced In Clashes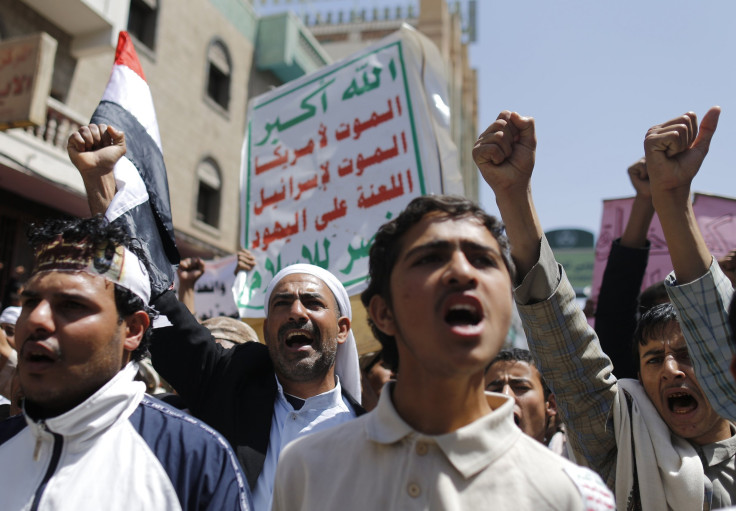 Shia rebels in Yemen seized control of Amran, barely 30 miles north of the capital city of Sanaa, following clashes that killed at least 60 people and injured 180 more, BBC reported Tuesday.
Thousands of civilians fled the city to escape a battle between the rebels, known as Houthis, and the Yemeni military. The Red Crescent, the Middle East arm of the International Red Cross, estimated that a total of 10,000 families have been displaced while 5,000 families are reportedly still trapped in Amran.
In a statement released Tuesday, following the capture of Amran, Mohammed Abdul Salam, the official spokesperson for Houthis, said that the "underprivileged sons of Amran" had prevailed and that they had scored a "massive" victory.
The recent fighting between the military and the Houthi rebels broke out on Saturday after a two-week long truce with government forces collapsed. At least 70 people were killed when the Yemeni air force bombed rebel bases near the town of al-Safra on Saturday.
The Houthis, a Shia group, alleged that army units linked to the Sunni Islah party, the main opposition party in Yemen, were responsible for the failure of the truce. Government officials, however, said that the attacks were prompted by the Houthis refusing to vacate the province of al-Jouf , in compliance with the terms of the ceasefire.
The UN envoy to Yemen, Jaman Benomar, told the Saba news agency that he was "deeply concerned about the continuing violence in Amran and other areas of the North." He also stressed upon the need to end tensions through a "political process" and to "develop a peace plan for the north."
The Houthis have been embroiled in several short, but bloody clashes with the government since 2004. They have demanded greater autonomy and less "U.S. interference" in Yemen's affairs. They have also garnered the support of many local tribes, including disgruntled members of the two largest tribal federations in the country -- the Bakils and the Hashids.
© Copyright IBTimes 2023. All rights reserved.
FOLLOW MORE IBT NEWS ON THE BELOW CHANNELS